Vice President Osinbajo May Be Replaced By Fashola Or Fayemi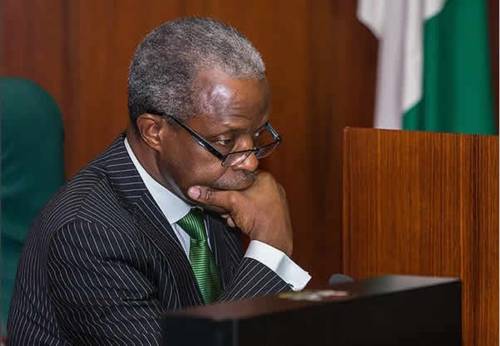 A national newspaper, Daily Independent claims that powerful forces in the presidency, otherwise known as 'members of the cabal' are already working on a replacement for embattled  Vice President Yemi Osinbajo,
According to the report, a credible source in the presidency revealed that the 'cabal' already has two possible replacement should Osinbajo decides to take a bow.
The newspaper claims that either Babatunde Fashola, Minister of Works and Housing, or Governor Kayode Fayemi of Ekiti State, who is the current chairman of Nigeria Governors' Forum (NGF), would take over as the VP.
The source claimed that there is a plan to retain the vice presidency in the South-West, however, the new vice president this time around would be "someone approved by the Buhari camp" as against 2015 when Asiwaju Bola Tinubu's camp produced Osinbajo.
He said Fayemi was one of the favourites in the Buhari camp having served as the Chairman of the Presidential Convention Committee of the All Progressives Congress (APC), which organised the primary that produced Buhari as the APC flag bearer in 2015.
After President Buhari assumed office in 2015, he appointed Fayemi as Minister of Mines and Steel Development, a position he held before resigning to contest the 2018 governorship election in Ekiti, which he won.
Speaking further, the source said told Daily Independent: "The president is also very comfortable with Fashola and would have picked him as his running mate in 2015 but for the outcry against a Muslim-Muslim ticket which also jeopardised Tinubu's chances.
"If you remember, that was why the president appointed Fashola as the Minister of Power, Works and Housing in 2015, making him the most important minister in his cabinet or super-minister as many called it.
"As it stands, these two are the likely choices as a replacement for Osinbajo, but it remains to be seen how this will materialise as the vice president will also not want to go down without a fight."
Naija News recalls that Political activist and former deputy spokesperson of the All Progressives Congress, Timi Frank,  had linked Osinbajo to the mismanagement of about N90 billion Naira released by the Federal Inland Revenue Service (FIRS) to prosecute the last general elections in favour of the ruling party.
Meanwhile, the ruling APC, last week released a statement maintaining that there is no crack in the Presidency as reported in some section of the Nigerian media.