DSS Arrest: Sowore Has Not Committed Any Crime – Falana (Video)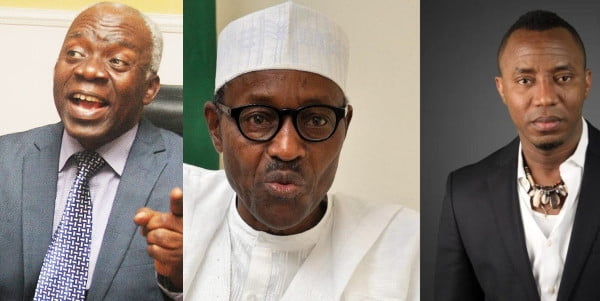 Human rights and constitutional lawyer Femi Falana (SAN), says his client Omoyele Sowore, who is under detention, has not committed any crime under the Nigerian law.
Naija News reports that Falana said this while speaking at an event organised by the Chartered Institute of Bankers of Nigeria (CIBN) on Tuesday, August 6.
This online news platform understands that Sowore, a pro-democracy activist and convener of "Revolution Now" movement, has been in the custody of the Department of State Services (DSS) since he was arrested on Saturday.
The DSS had accused the former Presidential candidate of threatening public peace and safety with his planned nationwide protest.
Speaking on the matter, Falana said Sowore refused to write a statement, insisting the DSS allow him to speak with his lawyer (Falana).
Falana stressed that: "The man (Sowore) who is accused of causing a revolution is in detention. Many Nigerians have asked me but… Femi… that young man went too far, how can you be calling for a revolution?
"I said where is the offense? Okay, terrorism and felony? Under what section? Treason… under what section of the criminal code?" Falana questioned.
Speaking further, Falana, who did not mention President Muhammadu Buhari's name directly, however, said Sowore had briefed him from detention that in the case he would be charged, his first witness would be someone (Buhari) in government who in 2011 also called for a revolution.
"I do hope that the government will not be stupid to charge Sowore. In fairness to them (DSS), they gave him a telephone to phone me. Of course, I knew they were monitoring the phone, and I told him I hope they won't charge you, because if they do, some of the people in government will be our witnesses," he said. 
"You know why? One of them, I won't mention his name. In 2011, he asked Nigerians to learn from the Egyptian revolution and be ready for a revolution in Nigeria. So, he will be my first witness," he said. 
Watch the video below…
Femi Falana is asking the Nigerian government to tell him the section of the Nigerian Constitution that finds Sowore guilty of treason. He also has a sub for someone we all know. #RevolutionNow #FreeSowore

— Gimba Kakanda (@gimbakakanda) August 6, 2019
Source: Naija News