Latest 9th National Assembly News For Wednesday, 10th July, 2019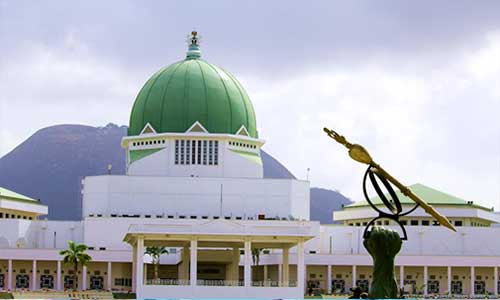 Good day Nigeria, welcome to Naija News roundup of 9th National Assembly news headlines for today Wednesday, 10th July 2019.
Below is a roundup of top 9th National Assembly stories.
Barring any last-minute change in plan or unforeseen circumstances, President Muhammadu Buhari will submit the list of ministerial nominees to the National Assembly this week. This information was disclosed by the President of the Senate, Ahmad Lawan, on Wednesday, during plenary in Abuja.
Protesters of the Islamic Movement of Nigeria also known as Shiites, on Tuesday shot two security operatives dead during a protest at the National Assembly in Abuja, Nigeria's capital. Naija News reports that the protesters shot their victims dead at the National Assembly complex in Nigeria's capital territory.
Members of the house of representatives hurriedly adjourned their sitting on Tuesday after members of the Islamic Movement of Nigeria (IMN) also known as Shi'ites forcefully broke into the National Assembly complex. Speaker Femi Gbajabiamila told other lawmakers that they would have to adjourn "due to security concerns" while an executive session would be held to deliberate the incident.
Some Islamic Movement of Nigeria (IMN) members better known as Shi'ites stormed the national assembly complex premises today and battled fiercely with security operatives. The group was protesting the release of Ibrahim El-Zakzaky, their leader, who had been held hostage for some time.
Senate President Ahmed Lawan has on Tuesday announced the names of the eight principal officers for the Nigerian Senate in the 9th National Assembly. This follows the letters received by the Senate President from the National Chairmen of both the ruling All Progressives Congress (APC), Adams Oshiomhole and the major opposition, Peoples Democratic Party, (PDP) Uche Secondus.
Femi Gbajabiamila, the speaker of the House of Representatives, has stated that the National Assembly Complex was "almost collapsing." Gbajabiamila stated this while been visited by the Secretary to the Government of the Federation, Boss Mustapha, in Abuja on Monday.
The Speaker of the House of Representatives, Mr. Femi Gbajabiamila has announced that the green House would commence electronic voting during plenary on July 3. Gbajabiamila made the announcement at the commencement of plenary today after two weeks of recess by members.
Senate President, Dr. Ahmad Lawan has denied every claim that there is the jumbo salary for National Assembly members as some quarters had speculated. This was made known today by Lawan when he was paid a courtesy visit in his office by members of the Senators' Forum.
That's the 9th National Assembly news for today. Read more Nigerian news on Naija News. See you again tomorrow.