'My President': Nigerians Praise Atiku Over Statement On Senator Abbo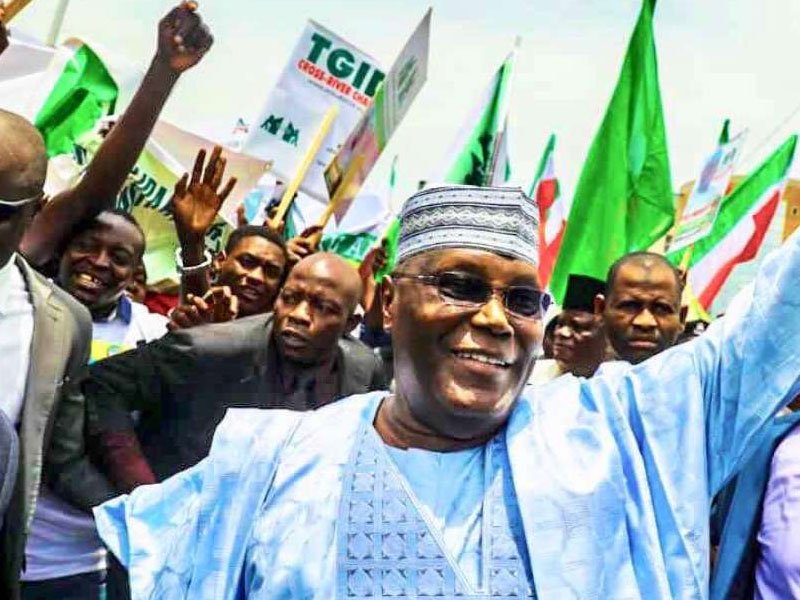 Nigerians have taken to the micro-blogging site to praise the Presidential candidate of the Peoples Democratic Party (PDP), Nigeria's main opposition party in the 2019 Presidential election, Atiku Abubakar, over his comment on Senator Elisha Abbo.
Naija News had reported earlier that Abubakar confirmed that he knows Senator Abbo, who assaulted a woman in a sex toy shop, but the law must take its cause.
It was learned that the assault occurred on May 11 a month before Abbo was sworn in on June 11 as a senator of the 9th Nigerian Senate on the platform of the PDP, Nigeria's main opposition party.
The assault was reported on May 14 at the Maitama Area Command Headquarters on Nile Street, but the police told the victim to go look for the Senator's telephone number or they would not be able to do anything about it.
Reacting to the incident, the Wazirin Adamawa said he knows Abbo quite well but that the law is clear and that leaders must lead by example.
In the statement, Abubakar advised his party to take disciplinary action against Senator Abbo, and also called the Adamawa North lawmaker to apologise publicly and submit himself to the police.
His words: "I have seen the alleged assault video involving Sen. Elisha Abbo. The video is sad, inexcusable. I know the Senator quite well. But the law is clear and leaders must lead by example.
"‪‪I advise him to publicly apologize, voluntarily go to the police and show a good example expected of a young leader. I also call on our party, the PDP to take necessary disciplinary action and the Nigerian Police to ensure the law takes its full course," he added.
Moments after his statement on Twitter, Nigerians jumped on the same platform to praise the PDP bigwig, describing him as "My President."
Naija News captured some of the reactions below…
That's my president right there. Elisha Abbo is like his son o yet this is it. I forever stan @atiku pic.twitter.com/WojvrQTq0F

— Benny Umoren (@BennyUmoren) July 3, 2019
Atiku my president. Even if u can't recover ur mandate,2023 is urs to lose

— DEMAGOGUE .?senior advocat? (@von_Bismack) July 3, 2019
@atiku is my President ,no regret atall being so highly Atikulated.He is the true leader Nigeria needs to get it right.After reading his response on the video of a Sen slaping a lady even while the Sen is a PDP and also from his state ,he never took side but stoodby the truth

— Ebererachael (@Ebererachael) July 3, 2019
My President, may you live long.

— Lady Regent/ The CEO (@mz_wakiki) July 3, 2019
Can @mBuhari do this? Never. L'aye yi ko.
That is the right thing to do.
My President, @atiku, had spoken!!!@MBuhari should learn how to do the right thing by given @atiku his mandate. We will still forgive him. https://t.co/k00UxCQUJq

— Com. TemiTope. Esq. (@tope_ti) July 3, 2019
My president u have spoken @atiku

— nwachukwu phill (@nwachuk83491042) July 3, 2019
Oh my President.
Whenever I see your tweet, I just smile. It shall be well at the end

— Mr.K ☀ (@nwaforkc) July 3, 2019
And they say he shouldn't be my president

— Certified Shooter (@Fortunefilmzng) July 3, 2019
God bless my indefatigable leader, always proud of you my President ?

— Apesin- Adegoke GCON (@Apesinodua) July 3, 2019
Words of a man with so much wisdom…..my president,our president of the federal republic of Nigeria…..greetings [email protected] @officialPDPNig

— brianbillion (@BNwabua) July 3, 2019
Buhari is not my president.
Maybe he is yours.
Since May 2015 i have been presidentless.
I detest him more than excreta.

— Enahoro Jude (@EnahoroJude) July 3, 2019
This is my President, the ideal President.
If Elisha Abbo was APC, Buhari would never say Kpim like this, they've made APC more occultic than Ayé and Eyé

— FUNKYfied Aboki (@oluobededom) July 3, 2019