9th Assembly: Lawmakers Jostle For Principal Offices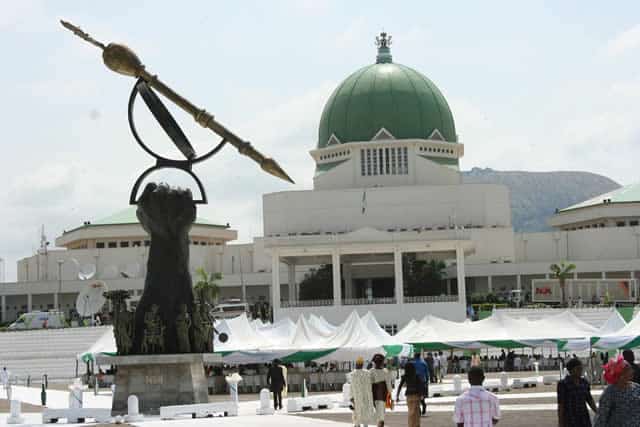 High level of politicking is in play over who emerges as the principal officers of the 9th National Assembly.
Naija News reports that Ahmed Lawan and Ovie Omo-Agege emerged Senate President and Deputy respectively.
Also, Femi Gbajabiamila and Idris Wase emerged Speaker and Deputy of the House of Representatives, respectively.
This has shifted the focus to the 16 principal offices where a rat race of sorts has ensued among lawmakers.
The eight positions in each House are Majority Leader, Deputy Majority Leader, Chief Whip, Deputy Chief Whip, Minority Leader, Deputy Minority Leader, Minority Whip and Deputy Minority Whip.
Also, the Red and Green chambers of the National Assembly will produce eight positions each.
The two major political parties – All Progressives Congress (APC) and the Peoples Democratic Party (PDP) – will determine who fills various positions.
Those eyeing the Senate positions include Abdullahi Adamu (APC, Nasarawa, North Central); Orji Kalu (APC, Abia, South-East); Ike Ekweremadu (PDP, Enugu, South-East); Enyinnaya Abaribe (PDP, Abia, South-East); and Yahaya Abdullahi (APC, Kebbi North-West).
In the House of Representatives, the likes of Ado Doguwa from Kano State; Mohammed Bago (Niger); Nkeiru Onyejeocha (Abia); Yakubu Dogara (Bauchi); John Dyegh (Benue); and Ossai Ossai among others are considered as front runners.
Currently, former Nasarawa State governor, Abdullahi Adamu, is being fingered for the Senate Majority Leader.
Hon. Umar Bago who lost out in the race to become Speaker of the House of Representatives may be eyeing the Majority leader position.
But, there are doubts the ruling APC will back him following his decision to go against party directives in the Speakership election.
Meanwhile, Hon Ossai Ossai from Delta is being tipped to emerge as the Minority Leader of the House.