Nigerians React As Oyegun Slams Oshiomhole Over Leadership Pattern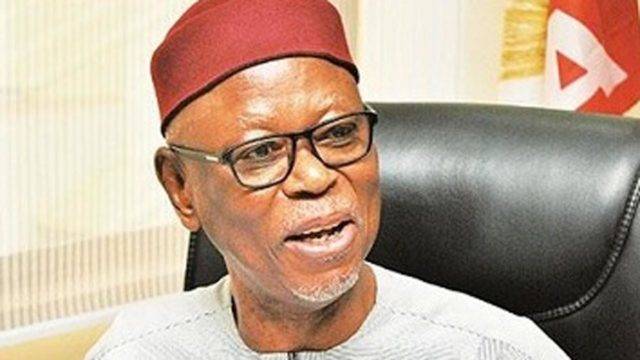 The immediate past National Chairman of the All Progressives Congress, John Odigie-Oyegun, has attacked the leadership style of his successor, Adams Oshiomhole.
In his submission, Oshiomhole is not fit to be in charge of any political party.
Oyegun made the declaration in response to a communique issued by the South-South APC State Chairmen, who blamed him for causing problems within the party while he was chairman.
Meanwhile, the reply of the  Elder Statesman to the South-South APC State Chairmen has been greeted by several Nigerians with mixed reactions. Here are some of the reactions.
Oyegun was the chairman when Buhari won his first term, and APC has a good majority in the national assembly, under his watch APC won all the rerun except Bayelsa state. Oshiomole took the party not less than a year he nearly reduced the party to minority in national assembly.

— Aliki ileri (@Aliki95678648) June 3, 2019
With all due respect to Baba, baba was a yes Man to the Lagos landlord because baba never wanted any issue. He has wisdom Oyegun at a time began to say no and he became bad…Aketi in Ondo primary and Faleke in Kogi. That's how it filtered to other states governed by the party.

— Olupitan Oluwamuyiwa (@muskainoh1) June 3, 2019
Oyegun blasted Oshiomhole, says APC Chairman lacks leadership skills because of his "Agbero" style of leadership.

Looking forward to seeing where this is headed.

— Chika Nelson | PR (@chikanels) June 3, 2019
If Oyegun, the immediate past chairman of APC could be dragged in mud like this without any caution from the party chieftains, who are you not to get some #NextLevel intimidations. #Nigeria pic.twitter.com/lmgaEZfcVQ

— AyeMojuba ??? (@ayemojubar) June 2, 2019
Oyegun ran a lawless party, Governors & Lawmaker become lawless, there was no party ethics and supremacy, he was a puppet to the Governor, Oshio baba is solving the problem he created, this will also come with some consequence. Ogun, Imo, Rivers & Zamfara are those consequence.

— Ibrahim (@hybeebabs) June 3, 2019
APC clans have taken Oyegun up with insults all because he said his mind on Oshiomhole.

You have no mind of your own as a member, you must do the will of the father to remain relevant even if you have to drag the former chairman. And that's how a cult operates.#Nigeria #Buhari pic.twitter.com/gLjX9RF3KQ

— AyeMojuba ??? (@ayemojubar) June 2, 2019
Oyegun had to wait till now because he thought Buhari was going to lose but later ran out of patience when he couldn't hold it in any longer ???

Once again, goodbye, Analogue former chairman of APC according to @Mr_JAGs

— Ayodeji Gasby ? (@Gasbytweet) June 2, 2019
Suddenly, Oyegun is now attacking Oshiomhole…

This game go sweet enh.

— Lere Olayinka – Aresa 1 (@OlayinkaLere) June 2, 2019