Ebonyi State: INEC Declares Umahi Winner Of Governorship Elections (See Official Results)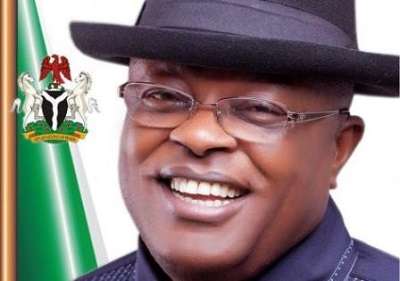 It is a Smile of Victory for Governor David Umahi of Ebonyi state as he has been declared winner of the March 9 governorship election in the state.
Declaring the result at the Independent National Electoral Commission, INEC, State Headquarters in Abakaliki, the Returning Officer, Prof. Chukwuemeka Eze, said the governor got a total of 393,343 votes cast across the 13 local governments in the state.
His closest Challenger, Sonni Ogbuoji of the All Progressive Congress (APC) got a total of 81703 votes while third place was taken by the candidate of the Social Democratic Party, SDP, Chibueze Agbo who garnered a total of 10,129 votes.
Eze said the total valid votes was 48,2018 while 10, 984 votes were rejected bringing the total votes cast for the election to 493002.
Umahi Speaks After His Victory At The Polls
Governor and Governr-elect Umahi, in a statement by his Chief Press Secretary, Emmanuel Uzor, declared his unalloyed loyalty to the patriotic citizens of Ebonyi State for re-electing him for a second term.
He promised to consolidate on the aggressive infrastructural, human development and aggressive industrialization of the state, the tripod on which his administration stands.
The Governor also reiterated his readiness to hand over power to Abakaliki bloc in 2023 after completing his second term so that power will continue to rotate round the three senatorial zones of the state in the spirit of equity and justice.
Umahi described the election as a reflection of the wishes of the people who have been resolute and desirous of consolidating on the already achieved development in the state.
The statement signed by Uzor also quoted Umahi as saying that the election was the best in terms of credibility and professionalism on both the sides of the Independent National Electoral Commission, INEC and all security agencies
He also called on those that contested with him to accept defeat as the consensus of the people of the state.
He promised that his second term projects would include the construction of Ebonyi airport, mega Olympic size stadium and completion of the already started 198km Abakaliki ring road and many more.
He noted that within the first four years of his administration, over 534km of roads have been constructed on rigid pavement with over 100 year life span, mega shopping mall, International market, Ecumenical Centre as well as new government House.
He further noted that the stigma on the Abakaliki man was removed by reconstructing and making Ebonyi State the model of development.
See Final Official Results of Ebonyi Governorship election Below
Registered voters:  1.2m
Accredited- 497, 291
A-122
AA-45
ACD181
ACPN- 103
AD-92
ADC-429
ADP 500
APC 81703
APP 284
ASD 94
BNPP 474
CAP 30
DA 41
DPC 51
DPP 75
FJP 54
GPN 30
ID 12
JNPP 32
KP 43
LP 211
MAJA 114
MPN 136
NCP 119
NFD 87
NPC 180
NRM 772
PDC 376
PDP 393,043
PPM 681
PT 181
RPM 54
SDP 10129
UDP 28
UPN 41
UPP 175
ZLP 294
VALID VOTES 482, 018
REJECTED 10,984
 TOTAL VOTES 493,002