2019 Elections: Ekweremau Advises INEC, Humours Buhari,'The World Is Watching Us'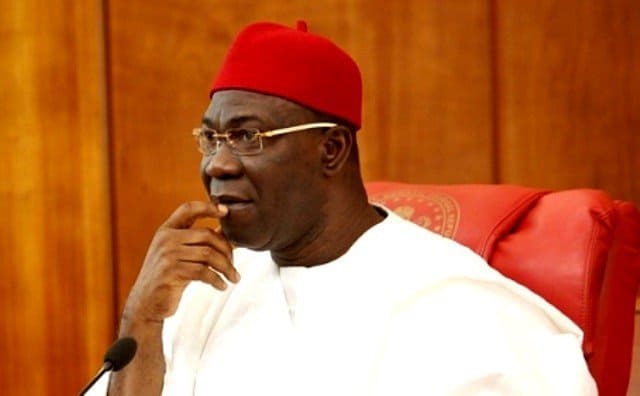 Ekweremadu Advises INEC, Police Ahead Of Saturday Presidential Elections.
Deputy Senate President, Ike Ekweremadu, has advised the Independent National Electoral Commission (INEC) and security to observe a high level of patriotism and professionalism in during and after the Saturday Presidential elections.
Giving his admonition while speaking with newsmen at the Enugu West People's Democratic Party's (PDP) mega rally, in Agwu, Enugu State, today, the deputy Senate President said, "I believe INEC will conduct a free and fair election if they follow the rules. They have said that several times. But, they also have to understand that, as the president would say, 'the world is also watching us'. At the end of the day, it is the INEC and its chairman that will be on trial. If anything goes wrong, the chairman will be held responsible. If it goes well, he will take the credit.
Naija News recall that president Muhammadu Buhari had first made the statement 'The World is watching us' on 14th December, when members of the National Assembly were booing at him during his presentation of the 2019 budget.
Speaking further, Ekweremadu said, "We've come a long way as a country. We've tried to freshen up our electoral processes, through some legislative efforts. We've amended the constitution several times to get the best practices. But, no matter the quantum of laws we have made, the important thing is for INEC to live up to expectations, to get their people to do the correct thing, whether you are ad hoc staff or you are permanent staff of INEC. Ultimately, they will answer for their conduct."
The lawmaker said it is also up to the security agencies to live up to their several promises of neutrality, professional conduct, and protection of INEC, electoral materials and voters.
Meanwhile, President General of Igbo Indigenes Without Border (IIWB), Dr. Bernard Oshi, has called for the re-election of Ekweremadu and other Igbo representatives in the upper legislative chamber. Rising from a sensitization workshop organized by the Abuja-based socio-cultural organisation, held recently at Ndiagboh, Aninri Local Government Area of Enugu State, in preparation for the forthcoming general elections, Oshi said Ekweremadu deserves re-election because he "is an epitome of service, sacrifice, unalloyed and fruitful representations. He is a true democrat, whose sole aim in government is hinged on the betterment of his people."
The entrepreneur and youth ambassador further noted that his constituency has never had it so good, by having a representative and leader like Ekweremadu.
"And like Oliver Twist, we want more of the good times, more of the giant strides in both human and infrastructural developments, more of the robust representations and, of course, more of the overwhelming goodwill that Ikeoha attracts to our land," he said.
Oshi, a.k.a Ben 10, said he has demonstrated time and time again, through his political sagacity, that representing a people, goes far beyond warming the seats, arguing and bantering words that do not impact positively on the people being represented.