2019 Election: Tell APC To Stop Violent Attacks – PDP Kwara Women To Buhari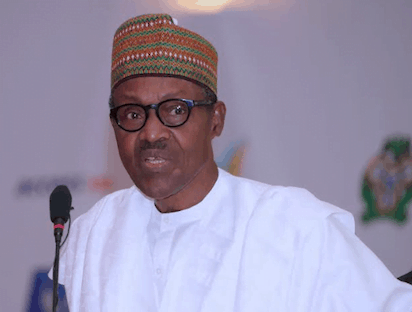 Women In Kwara State React To Alleged Attack By APC Thugs On Saraki Family Members In Ilorin
Women in Kwara state have President Muhammadu Buhari, as the father of the nation, to direct the security agencies to arrest and prosecute the masterminds and perpetrators of the recent political violence in Ilorin, the state capital.
This is as President Buhari is being expected in Kwara for a campaign today.
The women in their hundreds, dressed in black made the call in Ilorin on Tuesday at a crowded press conference addressed by the women leader of the state's chapter of the Peoples Democratic Party (PDP), Alhaja Ramata Oganija.
Oganija was flanked by other prominent women leaders in the state, including two former PDP women leaders, Alhaja Muslimat Ibrahim, Alhaja Sarat Adebayo and two current members of the state House of Assembly, Alhaja Sikirat Anako and Alhaja Segilola AbdulKadir.
Hajia Oganija, said women, as mothers were saddened by the recent orgy of violence by political thugs in Ilorin reputed for its peaceful nature.
It is recalled that political thugs allegedly loyal to a faction of the All Progressives Congress (APC) in the state had last Thursday and Sunday unleashed violence on residents of Ilorin, including the people of Agbaji family residence of the Senate President, Dr Bukola Saraki.
At least, 11 persons sustained gunshot wounds while 50 vehicles and valuable property were destroyed at Agbaji quarters during the attack, Naija News reports.
In her speech,  PDP women leader also urged the President to use his planned visit to Ilorin on Wednesday, not only to campaign but to ask his party men to end all their criminalities in the name of politics.
Her words, "We urge President Muhammadu Buhari, as the father of the nation to look beyond party affiliation, and partisanship and direct the security agencies to apprehend and prosecute all those who have been disturbing the peace of Kwara state and their sponsors.
"The president should use his visit to Ilorin not only to campaign but to ask his party men to end all their criminalities in the name of politics", she said.
Hajia Oganija who blamed the incessant attacks on members of the PDP on political thugs loyal to a faction of APC in the state, called on security agencies and the general public to condemn and fish out perpetrators of the breakdown of law and order.
She added, "It is no longer news that thugs believed to be working for factional APC governorship candidate, Abdulrahman Abdulrazaq last Sunday, 13 January, stormed Agbaji, the hometown of our national leader and Senate President, Dr Abubakar Bukola Saraki, where they attacked innocent people.
"The death-dealing thugs who were reportedly led by two members of the APC, Yahaya Gambari Seriki and Comrade Musbau Esinrogunjo opened fire on residents of the peaceful community and injured no fewer than 11 people in the process, who are mostly members and supporters of our party. They vandalized over 50 vehicles parked at different locations within Agbaji and also carted away property including motorcycles belonging to residents of the area.
Hajia Oganija pointed out that "This attack came few days after the Senate President raised an alarm planned attacks on his family members and supporters, and barely four days after a similar attacks on PDP members in some parts of Ilorin. Some of those injured are still receiving treatment at the different hospitals in town.
"What is disheartening is the fact that some security officials in uniform were said to have provided cover for the hoodlums who unleashed terror on our members and supporters at Agbaji, she said.
It is also unfortunate that the Federal Government and the APC would resort to using state institutions to harass and intimidate opposition figures and their supporters. This is barbaric, illegal and undemocratic, and it must stop.
"We condemn these repeated attacks on our party members and supporters, and call on security agencies not to be partisan and be alive to their responsibilities by fishing out perpetrators of these attacks and prosecute them accordingly to serve as deterrent to others who may be planning to carry out more attacks.
Appropriate sanctions must be dished out to individuals who break our laws and endanger our collective peace, she noted.
"The APC leaders in the state must warn their thugs and other undesirable elements within their party whose activities threaten the collective peace of our dear State. The use of thugs for electoral process must be discouraged and not allow to thrive, as we would not allow any act that can truncate the peace and harmony we enjoy in Kwara.
"Kwara has always been a peaceful State, and we will not allow any politician or group people to endanger the peace and stability of our dear State.
"We, therefore commend Governor Abdulfatah Ahmed for swiftly setting up a Joint Security Task Force headed by the Nigerian Army to check political violence before, during and after the general elections in the state. We must do everything possible to prevent violence and unnecessary loss of lives as we prepare for the elections.
"The APC have resorted to propaganda and violence having realized that they have been rejected by Kwarans. The PDP is on ground in Kwara and we enjoy the massive support of the people of the State. Kwarans have always demonstrated their love for our leader, Dr Abubakar Bukola Saraki, and we will always stand by him and his party. The PDP will, therefore, not engage in violence or any untoward act to win elections. The focus of our campaigns is the people and this is why we have been going round the State to engage them and ask for their support, and we are confident of victory at the polls.
"Those who intend to govern a State must campaign on issues, not by threatening and attacking people who do not share the same ideology with you. The APC should understand this and stop engaging in violence." she submitted.
Download NAIJA NEWS app: