Fayose's Aide Challenges Fayemi To Name Defectors That Joined PDP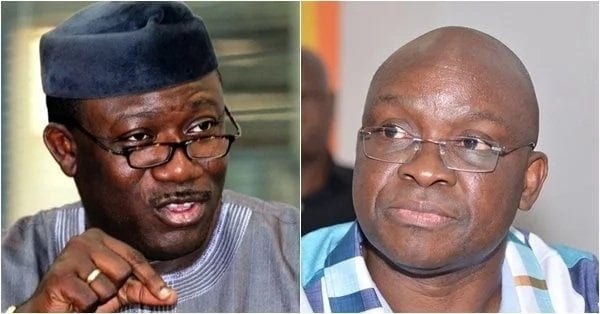 Fayose's Aide Mocks Fayemi Over Fake PDP "Defectors"
Media Aide to Mr. Ayodele Fayose, the immediate past Governor of Ekiti State, Lere Olayinka has advised the State Governor, Dr. Kayode Fayemi, to face the serious task of governance instead of allowing himself to be duped by those arranging for him, supposed Peoples Democratic Party (PDP) defectors whose identities were not known.
Olayinka, who was reacting to media report that over 500 political office holders under Fayose's government decamped to the APC asked;"What positions did they hold in the government? What has Fayemi done so exceptionally that will attract any sane mind to join the APC in Ekiti State?"
Ekiti State: Former Aides And Loyalists Of Fayose, Dump PDP For APC https://t.co/z1mpB0P2uy #politics #AdeniranAlagbada #APC Via @NaijaNews

— Naija News (@NaijaNews) December 12, 2018
In a statement issued on Wednesday and made available to Naija News, Olayinka said it was funny that some section of the media could be used to celebrate purported defection of supposed 500 former aides of Fayose without mentioning  the names and position held by at least five of them.
He said "rather than preoccupying himself with arrangement of fake defectors and vendetta, which has made him not to pay the salary of  duly elected local government official and members of statutory commissions in the State, Fayemi should begin to take stock of his close to two months of nothing as governor."
Fayose's spokesperson called on members of the public to ignore the defection story, saying no one defected from PDP to APC in Ekiti State.
Olayinka said; "If they are sure of their claim, let them release the names of at least 10 of the so-called defectors and evidence of the positions they held under the government of Fayose. Were they council chairmen, councilors or supervisors? Or do you just report that  someone was a political officer holder without mentioning the designation?
"It is only when you are desperate to create an impression that you get swindled with this kind of arranged defectors even when your own party people are boiling inside because you have neglected them."
Download NAIJA NEWS app: