2019: Tambuwal Speaks In Taraba On His Plan To Be A Digital President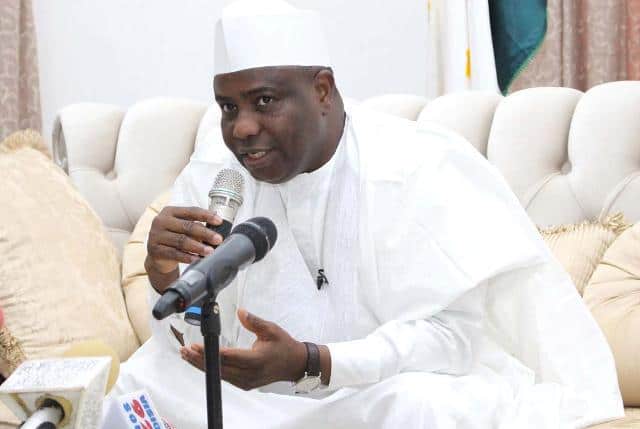 Tambuwal Asks For Taraba's Support For His 2019 Presidential Bid
Peoples Democratic Party (PDP), presidential aspirant, Aminu Tambuwal, has said "Nigeria deserves a digital president, not an analogue leader."
Tambuwal who is also the sokoto governor was speaking in Jalingo, Taraba state Capital to seek the support of the state for his presidential bid.
He said the world has become a global village that is fast moving and Nigeria cannot be left behind. "And to meet up, Nigeria needs a true digital leader to showcase the country to the world," he said.
The aspirant promised, that if he wins, he will engage the youth in science and technology so as to compete anywhere. "Anywhere you go, you will find Nigerians doing better. The president of Nigeria must not be an economist to improve the economy of the country, but to have the knowledge to appoint the right people.
"With my knowledge, I know the right people to assemble; I will leverage on the network of knowledge of brothers and sisters to solve Nigeria's problems. Nigeria needs a president with people that can advise him properly to get quality output."
He described his visit to Taraba as homecoming and fulfilling, adding that he has a very long standing relationship with Governor Darius Ishaku, his deputy Haruna Manu and the people of Taraba.
Tambuwal, a lawyer and former Speaker of the House of Representatives, commended his Taraba counterpart (Ishaku) for his infrastructural development and peace efforts in the state, given the scale of herdsmen violence. "Taraba is dear to all of us; it is so highly endowed with diverse people and mineral resources. We must transform it."
Deputy Governor, Haruna Manu, who stood for Governor Darius Ishaku, told Tambuwal that "Taraba has been a PDP State since 1999 and still waxing strong."
"Taraba will deliver 90 percent votes to you (Tambuwal) at the election, if you get the ticket. If you are looking for a true Nigerian, go for Tambuwal. He is detribalised; he gives a sense of belonging to everyone. Any member who served at the House of Representatives from 2003 to 2015 can attest to that. He has no religious or tribal sentiments.
"With leaders like Tambuwal, the Nigerian Project shall be realized. If he becomes president he will assemble the best crops of people. The agricultural sector that is to take over oil has not been developed. Insecurity is on the rise and Nigeria needs a leader that can fix these problems," Manu said.