Benue: Samuel Ortom Reacts To Persecuting Abubakar Tsav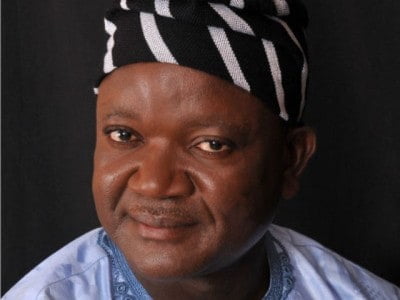 Ortom Promises To Withdraw Suit Against Tsav If He Apologies
Samuel Ortom, the Governor of Benue State has denied the report that he his persecuting the former Commissioner of Police, Alhaji Abubakar Tsav.
Alhaji Tsav had been accused of writing a letter to the Governor of Benue State, Samuel Ortom, captioned "Whistle Blowing: Stagnation of Benue State," which was copied to the presidency and anti-graft agencies.
The alleged letter was stated to have driven the Governor to file a case of defamation against him.
Ortom, who spoke through his Special Adviser on Media and ICT, Tahav Agerzua, said Tsav was being prosecuted for forgery and falsehood.
The statement through his media adviser said, "It has become necessary to correct the wrong impression being created by a former commissioner of the Public Complaint Commission in Benue State, Alhaji Abubakar Tsav, that Governor Ortom was after him for instigating a probe against his government.
"Alhaji Tsav is being prosecuted for forgery and falsehood which he peddled in a letter he wrote to the Governor of Benue State and copied anti-graft agencies and the Presidency.
"In the said letter, the former commissioner of police made reference to purported government documents which he forged. The Benue State Attorney General and Commissioner of Justice instituted criminal proceedings against him so that he could prove his allegations in court.
It added, "Governor Ortom believes in the rule of law and due process and does not use illegal means to go after anyone.
"When it became apparent to Alhaji Tsav that he could not prove his allegations and that the court would jail him, he apologised publicly and the matter was withdrawn."
The governor claimed that Tsav after realizing his mistake came with his chief commissioner and six of his colleagues from the PCC to plead with Ortom to withdraw the case.
At the meeting with the governor, the statement said that his colleagues reminded him that as a Public Complaints Commissioner he was not supposed to be a petition writer.
The governor said the former police boss also wrote to the Tor Tiv to intervene in the matter on his behalf.
"The governor told those who intervened that he would withdraw the case on the condition that the former police commissioner would tender a public apology and also write to anti-graft agencies as well as all those he had copied his letter stating that what he wrote was false.
Meanwhile, a Chief Magistrate Court sitting in Makurdi, the Benue State capital, has ordered for substituted service on Tsav in a criminal suit filed against him by the State Attorney General and Commissioner for Justice, Mr. Michael Gusa.
Download NAIJA NEWS app: