2019: Defecting Members Will Not Be Missed By APC – Oshiomhole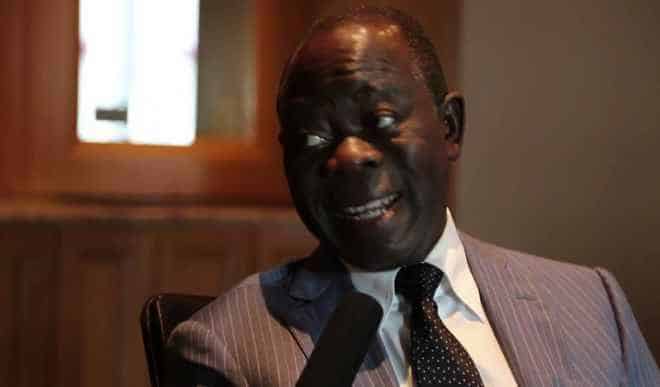 Oshiomhole Praises Buhari For His Achievement In The Past Three Years
Adams Oshiomhole, the National Chairman of the All Progressives Congress, stated that the party would not miss any politician that had the art of migrating from one party to another as each election season comes by.
The statement was made by Oshiomhole at the National Executive Committee meeting of the party, which held in Abuja on Thursday.
He stated that despite the effort by his administration to reconcile the aggrieved members, some party members still left the party.
Oshiomhole said, "Those who were determined to leave, not on account of what anybody has done wrong against them, but on account of an ambition they believe they cannot realize on our platform, even though they were not denied the opportunity to try out that ambition, but perhaps because they could read like an oracle what the future would be particularly as people have contested before when we didn't have any incumbent.
"Those who had dollars gave, those had nails gave and Mr President said I don't have, but even if I have, I won't give, but will offer honest leadership. At the end, the President won, but the victory did not purge those with that ambition and they were determined that they must contest and they were free to do that.
"I had thought that by the provisions in our party constitution, they had the right to contest and that right was not going to be denied them. But reflecting on what has happened in the past and reading the minds of party members and leaders, they came to the conclusion that the only way they can realize their ambition was to relocate and they relocated."
He expressed confidence that their exit would not have an adverse effect on the party's fortunes.
He said, "I speak of (politicians with) no particular fixed address because if you have a history of moving every season from one political party to the other with one constant thing in mind, to contest, now what is your political address? So, for people like that, who are migrant politicians, rolling-stone politicians, I am not able to identify their political address and therefore, I refuse to miss my sleep."
He assured party members, especially legislators, who had genuine cases of unfair treatment that the party would do what was right to ensure that justice was done.
The national chairman of APC said President Muhammadu Buhari had not disappointed Nigerians since he took over as the President of this country in 2015.
He further stated that the since the President took over, APC had won most of the elections it had contested in various states.