Trump Comment Will Not Deter Buhari From Fulfilling His Electoral Promise – BMO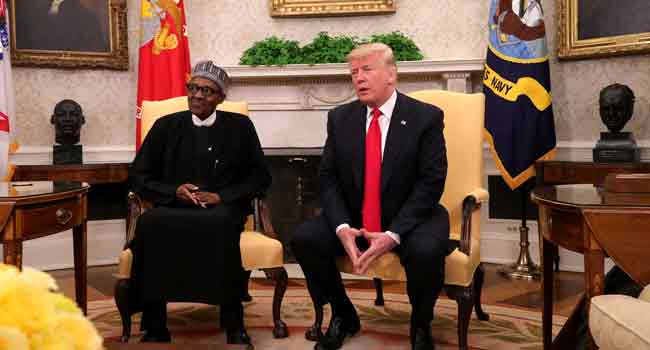 The Buhari Media Organisation ( BMO ) has assured the President Muhammadu Buhari would remain focused on his promises to the Nigerian People rather than lose sleep over the derogatory comment allegedly made by US. President Donald Trump concerning him.
The group was reacting to a report by the Financial Times that the American President told his aides after a meeting with the Nigerian Leader in April that he never wanted to hold such a life less meeting again.
Niyi Akinsiju and Secretary, Cassidy Maduekwe, the Chairman and Secretary of the group, while describing the comment as irresponsible and disrespectful in a statement, stated that whether it was indeed said or in fact unsaid, Buhari would in his character continue to remain focused on his mandate to deliver on his promises to the Nigerian people.
The group said that "President Muhammadu Buhari is fit and capable to run for the 2019 elections and oversee the affairs of the country for four more years President Donald Trump's hate speech notwithstanding."
The group who said it was not surprised by the comment by the US. President, asserted that the president would not be move by it.
"We are aware that President Trump's disrespect for World Leaders is not new; his comments on Canada's Prime Minister, Justin Trudeau, calling him 'meek and mild'; his reference to Germany's Leader, Angela Merkel's actions as 'insane', or his outlandish Tweet at the UK's Theresa May, and more recently, the alleged remarks he made after meeting President Buhari.
"It is indeed not the first time President Trump would be heard to lower the standards of respect for his colleagues on the world stage. We are not surprised, we know that this age-long character of the US President would not change anytime soon. But it is important that we put it on record that President Buhari remains fit and sprightly, even for the next decade.
"We recall that during President Buhari's visit to Trump in the White House, the US President commended the successes that the Buhari administration had recorded especially in the fight against insurgency and the war on corruption.
"The US President was full of admiration for Nigeria's President during the visit, thus such outlandish remarks as reported by the Financial Times are not just to be taken with a pinch of salt but are untrue in themselves.
"President Buhari has continued to show fitness and capacity to run the country post-2019; it went further to highlight that though the President's 800 metre walk, where he acknowledged the cheers of members of his constituency, was not intended at showboating, it was an unscripted reference point that further proves a fit and lively President." the group says
, 
Source: Naija News