Victor Umeh Ask God For Forgiveness For Supporting Okorocha In 2011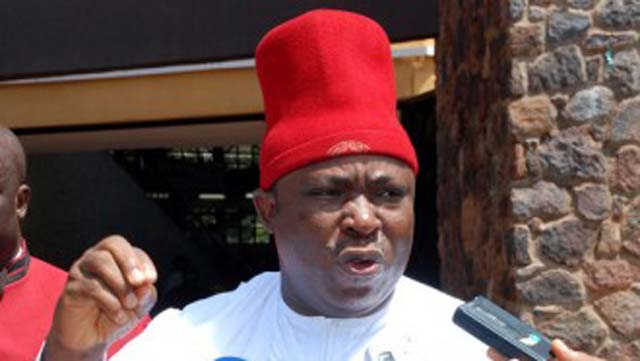 Okorocha Sees Himself As Mr Right – Umeh
Victor Umeh, the senator representing Anambra Central Senatorial District, asked God for forgiveness on Sunday over his role in aiding Rochas Okorocha to become the state Governor in 2011 under the umbrella of the All Progressives Grand Alliance.
The senator described Okorocha as evil who had become an island unto himself, he stated that the governor has become "a pain in the neck of his people".
Umeh who was APGA national chairman in 2011, led members of the party in Imo State to campaign for Okorocha, who later won the election.
Okorocha, however, dumped APGA and joined the All Progressives Congress.
Speaking during the inauguration of "Senator Victor Umeh Support Group" at Neni in the Anaocha Local Government Area of Anambra State ahead of the 2019 general elections, Umeh wondered why Okorocha should be desperate to instigate the impeachment of his deputy, Eze Madumere.
The senator recalled how Madumere worked so hard to ensure the success of Okorocha as governor of the state.
He said, "Madumere was even detained because he was fighting for Okorocha, only for the governor to want to impeach him because the governor wants his son-in-law to be governor of the state."
Umeh while reacting to the planned impeachment of Imo State Governor, said Okorocha had spearheaded the impeachment of his first deputy in 2013 and he is here again with the same agenda. The Senator said he can not be Mr Right.