Igbos Will Vote Massively For President Buhari In 2019 – Rochas Okorocha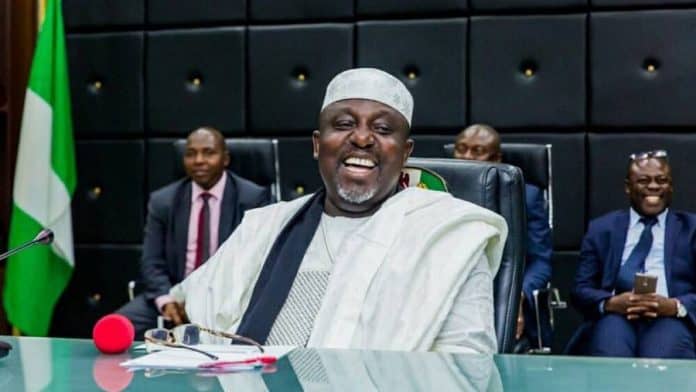 Imo state Governor Rochas Okorocha has called on the Igbos to vote for President Muhammadu Buhari in 2019, stating that the "Igbo love President Buhari. What he is doing in Igboland has touched the Igbos. Let him know we love him and that in 2015, Igbo people played bad Politics, because the Igbos never believed in Buhari but in 2019 Igbo will vote massively for Mr. President.
This he made known during a rally for South-East APC mega rally tagged South-East APC Rally for Buhari at the Dan Anyiam Stadium Owerri on Tuesday.
Also President Muhammadu Buhari, who spoke through the Secretary to the Government of the federation, Mr. Boss Gida Mustapha said that the South-East people and the Igbo in particular have rights to the leadership of the country, as they are part of the nation, adding that they should support them.
His words "In 2015, Igbos played bad Politics like Owelle rightly acknowledged and that Igbo people are not good starters, but when they start, they have the capacity to overtake. I assure you that the Igbo nation are ready to overtake other parts of this country in 2019,
"The election in 2019, for the Igbo nation, is an election that will determine or mar your chances. I want to appeal to you that this is not about party but about the Igbo nation, and I'm calling on the Igbo nation and brothers in the diaspora and in this land to have a paradigm shift and think seriously about their nation and position in this country,
"I have had opportunity to speak to Igbo leaders and I told them this, that the Presidency of Nigeria has always been negotiated and you can only negotiate on the basis of strength. If you're weak, then you don't have a chance and your position of strength will be determined by the votes you give to Buhari in 2019.
"You're important people in this nation. You control industries, you control trade and commence. You control every facet of our entrepreneurship. I appeal to you and I urge you to bring the skills you have built in the past to bear on your political arena so that you can navigate your way to the presidency of this country through your votes for President Muhammadu Buhari,
"The choice is that of the Igbo nation. What happens in 2019 will determine the future of this country. I appeal to you, please stop listening to the stories that are being peddled. Buhari is an honest man, that cuts the entire African continent. Buhari is not a selfish man. He is not a tribalistic man, he is a man that has a vision for a true Nigeria,
"Never in the history of this country do we have the SGF and Head of Service from the same religion. But because of his dire desire to move this country forward he accommodated that. Nigeria is not a Banana republic, Nigeria is a serious country, and President Buhari is the only man that can fix this nation" he concluded.