Miyetti Allah Lied, Troops Didn't Kill Herdsmen Or Cattle In Nasarawa – Defence Headquarters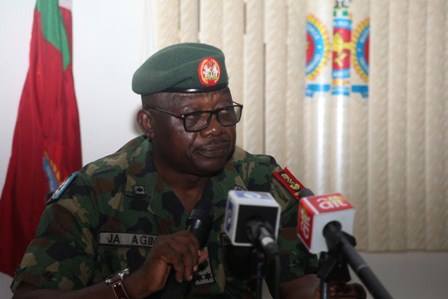 Military Denies Killing Herdsmen In Nasarawa State
The Defence Headquarters has reacted to claims by the chairman of the Nasarawa State branch of Miyetti Allah Cattle Breeders Association of Nigeria (MACBAN), Mohammed Hussein accusing troops of Operation Whirl Stroke of killing six herdsmen and 150 cows.
The denial is contained in a press statement made available to Naija News on Friday by Brig Gen John Agim, Acting Director Defence Information.
The statement also explained the military version of what actually transpired.
The full statement reads:
"On the 28th June 2018, the chairman of Nasarawa State branch of Miyetti Allah Cattle Breeders Association of Nigeria (MACBAN) accused OPERATION Whirl Stroke (OPSW) of extra judicial killing of Fulani herdsmen and hundreds of cattle."
"This allegation was made in three national dailies; PUNCH pg 10, Daily Independent pg 6 and Daily Trust pg 4. In this allegation, the chairman Mohammed Hussein said that OPWS killed 6 herdsmen and 150 cows. I wish to make it abundantly clear that the Special Forces troops of OPWS did not kill herdsmen or cows as claimed by the MACBAN chairman in Lafia. The information is completely false and unfounded. The OPWS was established on the 8th of June by the Chief of Defence Staff, Gen Abayomi Gabriel Olonisakin in consultation with the Service Chiefs and Commanders of other security agencies with the mandate to completely restore law, order, peace and security in four affected states; Benue, Nasarawa, Taraba and Zamfara. It is therefore the duty of OPWS to ensure that all the people in these affected states go about their lawful duties without fear of molestation from any quarters. These we have done at great cost to our personnel which include some paying the supreme price."
"The truth of the matter is that on the 26th of June 2018, at about 6.00 in the morning, some troops of OPWS carried out a cordon and search operation at a suspected herdsmen militia camp at Bakin Kota village in Keana LGA of Nasarawa state. After the initial success of the operation, the militia elements reorganized and attacked our team, killing two soldiers and injuring five personnel including the Officer Commanding. Following this incidence, some troops of OPWS were mobilized for reinforcement. In the fire fight that ensued some of the militia must have sustained some injuries as we were able to extricate our men that were injured. In the course of the fighting, OPWS troops recovered 1 x AK 47 Riffle fitted with magazine, 2x locally made guns, 1x pistol, 1x axe, and 800 rounds of 7.62mm special. This was a criminal group that our troops were able to destroy their camp. For the Chairman of the Nasarawa state chapter of MACBAN to identify and associate them as members of his association begs for questions and answers. While the military is not in a hurry to link MACBAN to this militia, investigation has begun to unravel those behind the death of our men. The military is ready to take down those who are responsible alongside their sponsors no matter how highly placed."
"However, let me emphasize that within the two months of OPWS launch, it has recorded tremendous achievement in its efforts to restore peace and order to the general area of Nasarawa, Taraba and Benue states. With the reduction in the frequency of attacks, IDPs are returning to their homes in droves. Particularly, in Logo LGC alone, about 20,000 IDPs have returned home. It is estimated that close to 100,000 IDPs have so far returned to their abandoned homes across Benue State."
"OPWS troops have continued to carry out special patrols of farmlands to sustain the peace and build confidence of the displaced persons as they return to their economic activities."
"Also, some suspects were arrested in their hide outs in Rukubi in Nasarawa state on June 2018. A suspect arrested was identified as Joseph Igbatim and 1 locally made pistol was recovered from him. While in Doma LGC, cordon and search was conducted at suspected armed militia hide out in Yelwa. Items recovered included 1 single barrel gun, 2 motorcycles abandoned by armed men that fled the area following troops' arrival. 1 suspect was arrested and he confessed that the gun belonged to his son, Abubakar Haruna who is currently at large. The 2 suspects are currently undergoing interrogation. So far, OPWS troops have arrested 21 suspects and recovered 20 weapons and 882 rounds of assorted ammunition in Nasarawa state since the inception of the operation. Similarly, the force has recovered 3 weapons and 169 rounds of ammunition as well as 13 suspects apprehended in Benue state since our operation commenced."
"The NAF Component of OPWS has flown a total of 54 sorties totaling 90 hours, 25 minutes in support of OPWS. The sorties include, Air interdiction using the Mi-35 helicopter gunship, Armed Recce using the F-7Ni supersonic jet and the Mi-35M, ISR using the King Air 350, ATR 42 and Diamond 42,lastly Patrol flights using the Bell 412. The air support has been a force multiplier and added great value to the successes recorded in the Operation."
"In another development, about three weeks ago, OPWS Zamfara was launched. Recall that when this operation was launched in May, I informed you that due to strategic reasons, the troops were fully on ground in Nasarawa, Benue and Taraba states while only reconnaissance was conducted in Zamfara state. I am happy to announce that about three weeks ago, OPWS was fully launched in Zamfara state and for strategic reasons, a new commander has been appointed for that Operation and to be known as OPWS II. He is Major General Abubakar Maikobi."
Source: Naija News