Buratai Clears Gudumbali Town Of Borno For IDPs To Return To Normal Lives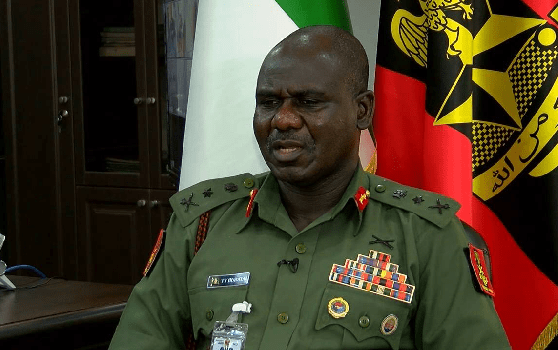 Chief Of Staff Gen. Tukur Buratai  Kick Of Clearing Borno Town Of Displaced Persons
Nigerian Chief of Army Staff , Lt Gen. Tukur Buratai, has kicked off clearing of a Borno town liberated from Boko Haram by the military, to allow residents displaced from their normal lives return home.
Buratai, while flagging off the  development in Gudumbali, a town around the Lake Chad region in northern Borno, once captured by Boko Haram, last weekend, said the exercise was part of the 2018 Nigerian Army Day (NADCEL) Celebration.
He said Gudumbali was chosen for the cleaning exercise to fast-track resettlement of internally displaced persons (IDPs) who returned to the town few weeks ago.
"Gudumbali is a historical town known for its tranquility and economic potentials, until Boko Haram dislodged the people and seized the town. The exercise is to clean up the town, to completely resettle the people," he disclosed.
The COAS also unveiled a Cenotaph where over 200 soldiers were killed in an army base by Boko Haram attack on the town in November 2015.
He said the cenotaph would remain in the memory of the Nigerian Army as the soldiers laid their lives for the nation. "They were one the main victims of insecurity in the northeast," he said.
He promised that the army would not forget their contributions and their families. He also flagged off farming activity in the area.