"I will Never Leave Imo People Alone"- Okorocha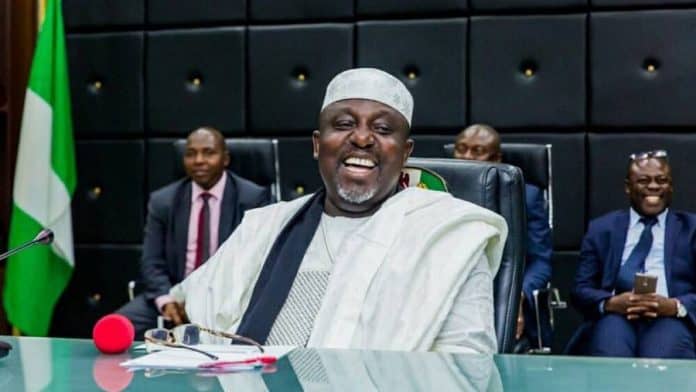 Governor Rochas Okorocha Says He Is Concerned About Leaving A Successor To Continue His Good Work, Swears In Two New Commissioners
Governor Rochas Okorocha of Imo State has said his concern for 2019 is to leave behind a successor who would continue the good works which his government had begun in the state.
He said this on Monday, while he swore in two new commissioners Daniel Nworie for the Ministry of Sports, and Mrs. Edna-Matthew Njoku for the Ministry of Agriculture and Natural Resources, and two new transition committee chairmen for local government areas at the Sam Mbakwe Exco Chambers.
Meanwhile, Ugochi Nnanna Okoro, who was before now the commissioner for Agriculture, is now the Commissioner for Internally Generated Revenue (IGR).
According to the governor, "the Rescue Mission Government has done very well and will also finish well. This is because no government in the history of the state before this administration had done one-tenth of what this administration has done. And we have done so because I mean well for Imo State and her people.
"And that is the reason the excuses given by those who had governed the state before me were giving like, there was no money or I have been in court, has never come out from my month. We have a brand new state at the moment," he added.
While disclosing that "The minister of information will be here to commission some of our projects, the vice president and the president will also come at different times to commission different projects because they are too many." Okorocha further promised, that he will continue to work till his handing over.
"And I will never leave Imo people alone. I will ensure that someone who would have the zeal or passion to work for the state and continue the good works will take over. It goes beyond the issue of zoning because such issue won't put food on the table of the citizenry." he added
The new transition committee chairmen, who were also sworn in are Ugorji Collins for Mbailtoli Local Government Area and Kelechi Iwueze for Ehime Mbano Local Government Area.