We Surrender Due To FG's Offer Of Amnesty – Boko Haram Suspects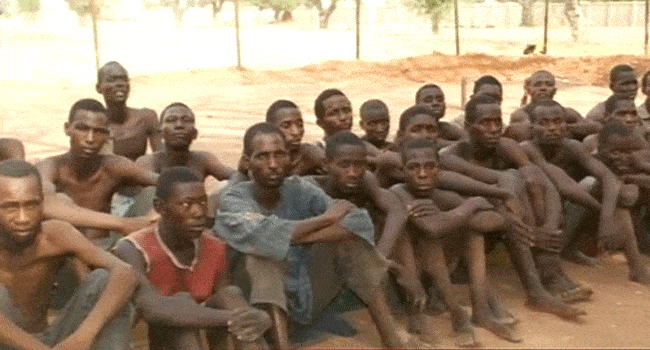 17 suspected Boko Haram Suspects have keyed into the amnesty programmes by the Federal Government by surrendering to the Nigerian Military on Monday.
This is according one of the suspect, Ahmed Alhassan, who spoke when Maj.-Gen. Rogers Nicholas paraded the suspects at Theartre Commander of Operation Dole in Maiduguri.
He said he made the decision after hearing the passionate appeal by President Muhammadu Buhari for them to turn themselves in at their camp close to lake chad known as "Marcas of Nguma".
"We have been contemplating to surrender ourselves after we realised that we were being recruited into false movement.
"What pulled us back was the fear of been caught and killed by either our members or the military.
"But after the announcement by President Muhammadu Buhari on granting amnesty to those who surrender, drop their arms and accept peace, we decided to defile all the fear and eventually came out.
"We also made up our minds to sacrifice our lives in a bid to secure freedom, knowing fully that God will forgive us for attempting to embrace peace and stop the killings,'' he said.
The suspect stated that he was forcefully initiated into the group when the militia invaded their town in Munguno four years ago.
"They gathered all of us and selected some of us, which they said we shall be working for the cause of God. Those who refused were eventually killed.
"Many have been conscripted and recruited, some have spent one and half, some two and some of us have spent four years," he said.
He commended the military for treating them with respect and dignity, urging other members to embrace the Federal Government's peace avenue to surrender.
"We eat the best of food and sleep in a conductive atmosphere.
We are also allowed to interact with some our colleagues. They listen to us and share our pain," he said.
Mustapha Umar, another suspect, who claimed to be from Abubakar Shekau's faction, said he had worked as a commanding officer for the group for about three years.
"We realised that the group was serving the course of the devil by committing all forms of atrocities. There was a lot of hardship in the camps. Many have been killed by one form of disease or the other.
"I am happy to be out here. The military have been treating us very humanly and I want to ask for forgiveness for all the pain I may have inflicted on the people while fighting for the baseless course,'' he said.
While speaking at the event, Maj.-Gen. Roger Nicholas, The Theartre Commander of Operation Lafiya Dole, stated that the 17 suspected Boko Haram surrendered willingly and renounced their membership to the fighting troops.
Nicholas added that about 70 suspected Boko Haram surrendered in Munguno and 60 in Bama, adding that many others had continued to drop arms in different designated military centres.
"You can see that they are finding it easier to surrender. We have our designated centres where such persons can come out and surrender and it is yielding result," he said.