Since I Became Governor, Poverty Level Has Reduced From 57 To 19 Percent – Okorocha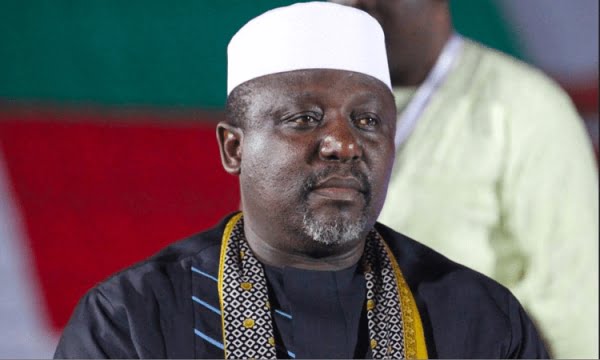 Governor Rochas Okorocha Of Imo State Applauds His Administration On Poverty Reduction, Reveals Plan To Empower 50,000.
Governor Rochas Okorocha of Imo State on Monday said that in 2011 when he became governor the poverty level in the state was 57 per cent, but by 2017, the poverty level in the State has come down to 19 per cent, courtesy of his administration.
Okorocha made this known even as he disclosed his plan to empower about 50, 000 citizens of the state as part of his 'parting gift' to end his administration.
Okorocha who was speaking while he inspected some on-going projects in Owerri noted that the empowerment programme he christened 'My People, My People Empowerment Programme,'is aimed at reducing poverty in the state to its barest minimum.
Governor Okorocha explained that, 'My People, My People Empowerment Programme' would further reduce the poverty level to five per cent, recalling that he had promised the people of the State that once the flight gets to a cruising level, that the captain will come out and merry with everyone.
Accordng to the governor, "This time around, we are going to remember the very poor people, poverty level is low in the State but we want to reduce it to the barest minimum.
"Traders and people who are trying to survive with goods less than 10,000 naira in their shops, forms will be brought out very soon and all that are interested for the empowerment will fill.
"I will personally supervise the empowerment exercise which will be termed, 'My people, My people, empowerment'.
" This will help some of our street traders to start a better life and we are targeting 50,000 people across the three zones of the state.
"This exercise will start between now and September. This will be my parting gift to Imo people,"
Speaking on the Urban Renewal Programme, the Governor said
"For the landlords that have renovated their houses along Cathedral and Douglas Roads and those making effort to make the city clean, the government shall give them a special package in terms of some kinds of waiver, in property rates and other fees associated with buildings. We are more interested in giving the city a facelift to making more IGR.
Meanwhile Naija News reports that there has been recent  contention between the governor and citizens of the state over his plans to install his son in-law as the next governor of Imo state.