Fulani Herdsmen Hit Benue State Again, Kills Village Head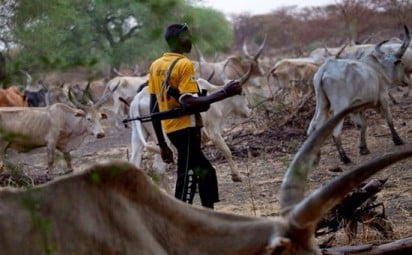 Some Suspected members of the Fulani Herdsmen attacked Chembe settlement in Ukemberagya/Tswarev council ward of Gaambe-Tiev, in Logo Local Government Area of Benue State, killing a village head, Mr. Iyongovihi Ninge.
According to an eye witness ,Joseph Anawah , the herdsmen came with their cattle and destroyed newly planted yam seeds.
He said the herdsmen came and started firing at Ninge who was preparing for cultivation.
"The village head was shot on the back and he died on the spot," the eyewitness said.
He said that the herdsmen weren't arrested even if the incidence occurred very close to a military camp stationed in the area.
"The marauder. opened fire on Chief Iyongovihi Ninge who was clearing his field in readiness for cultivation.
"On hearing the gunshots, everyone within the area ran away, though we cannot at the moment ascertain if more persons were killed, as several families were lamenting that they could not trace their family members," he said.
When contacted, the Logo LG council chairman, Mr. Richard Nyajo, who confirmed the attack, said he had received report that the Chembe village head was killed in the attack.
"It is very true; herdsmen attacked Chembe and killed the village head. That was the information that reached me this afternoon.
"We learnt that after killing the village head, the herdsmen pursued the people of the community who fled from their farms and homes on hearing the sound of gunshots."