Army Denies Beating Man To Death In Taraba State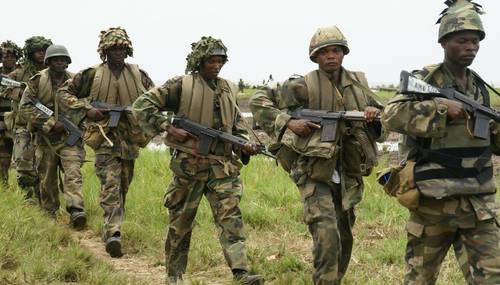 Our men didn't beat man to death in Taraba state, Army declares
The Nigerian Army has on Wednesday, denied claims that its troops beat a 27-year old man, Yusuf Haruna to death in Taraba state.
The father of the deceased, Mr. Haruna Kurkal had leveled the allegations against the soldiers while speaking with newsmen.
The Army spokesperson, Brigadier General Texas Chukwu, said the initial report was false and wishes to set the records straight on what actually transpired.
The army statement obtained by Naija News reads:
"The attention of the Nigerian Army has been drawn to newspaper reports particularly an online medium, sunnews online.com of 2 April 2018 where it was alleged that soldiers deployed on Exercise AYEM AKPATUMA beat 27 years old man, Yusuf Haruna to death at Mbanga in Sardauna Local Government Area of Taraba State. This allegation is misleading and untrue. "
"The Nigerian Army wishes to put the record straight to avoid misinforming the general public."
"Contrary to this allegation, the deceased was a notorious youth who lived in Mbara quarters of Mbanga Community. He was known to be engaging in all forms of criminal activities."
"He was apprehended by troops deployed on Exercise AYEM AKPATUMA and while making efforts to hand him over to the police for questioning, he however escaped from custody. The soldiers were later informed that he died at the Family Health Care Hospital Mbanga."
"The deceased was not beaten nor tortured as reported by some section of the media. The deceased was said to be an epileptic patient according to a source from the Family Health Care Hospital Management."
"The Nigerian Army wishes to caution the media to always cross checked their fact before rushing to the press and be objective in their reportage of security related issues."
"Furthermore, the general public is advised to report suspected movements in their areas to the nearest security agency for prompt action."