Impeachment: Pro-Akpabio Senators Make Moves To Drag Ganduje-Led APC NWC To Wade Into Crisis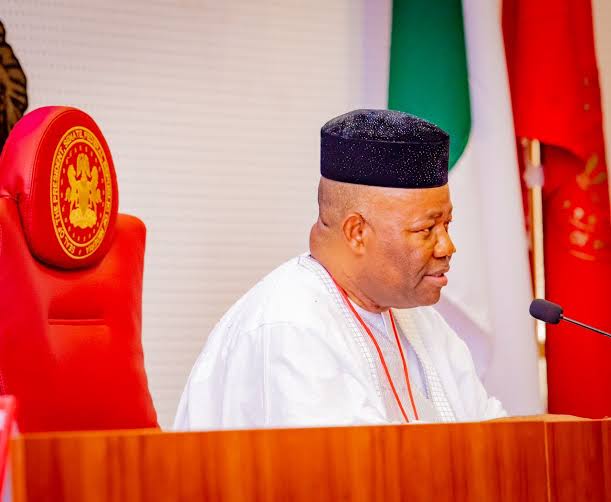 Efforts are underway by some senators in the red chamber to call on the ruling party's leadership to wade into the plot to impeach the Senate President, Godswill Akpabio.
The plot to impeach Akpabio took a fresh turn on Tuesday as about ten former governors in the red chamber and a parliamentary coalition have insisted he stepped aside.
However, some senators have said they plan to drag the Abdullahi Ganduje-led All Progressives Congress (APC) National Working Committee (NWC) to wade into the matter.
While some senators were on Tuesday said to have embarked on a troubleshooting mission to their colleagues, they insisted the matter be dragged to the Ganduje-led APC NWC.
Naija News recalls that reports had emerged last week that two prominent Senators from the North West and other Senators were already meeting and strategising how to remove Akpabio as the President of the 10th Senate.
The report alleged that the Senators believed that the President of the Senate was a rubber stamp and may not be able to carry out his duties effectively.
But some senators described the earlier reports of planned impeachment as "phantom."
Meanwhile, an APC official said the party has not received any formal information about challenges and plots against Akpabio; all they are hearing are from news reports.
The official, who pleaded anonymity to Vanguard, said, "The party is just reading a lot of thongs, but we have heard that some of the senators are thinking of meeting with our NWC to help resolve the issue."
It would be recalled that last Saturday, Senator Elisha Ishaku Abbo, had claimed that Akpabio's loyalists sponsored the news report about his rumoured planned impeachment in order to set Northern Senators against President Bola Ahmed Tinubu.
Abbo had said "I woke up today to see over ten mainstream Nigerian newspapers, all carrying news of a plan to impeach Senator Akpabio by senators from Northern Nigeria. The Whistler Newspaper went ahead to mention Senator Yari, Senator Tambuwal, and Senator Onawo, among others, as the senators behind the move.
"As a Northern Senator and an official of the Northern Senatorsé= Forum, I make it bold to say that this news is deliberately planted and syndicated by the 'camp' of Senator Akpabio just to set President Bola Tinubu against the North."
---
---
© 2023 Naija News, a division of Polance Media Inc.