Manchester City's Mendy Says He Slept With Over 10,000 Women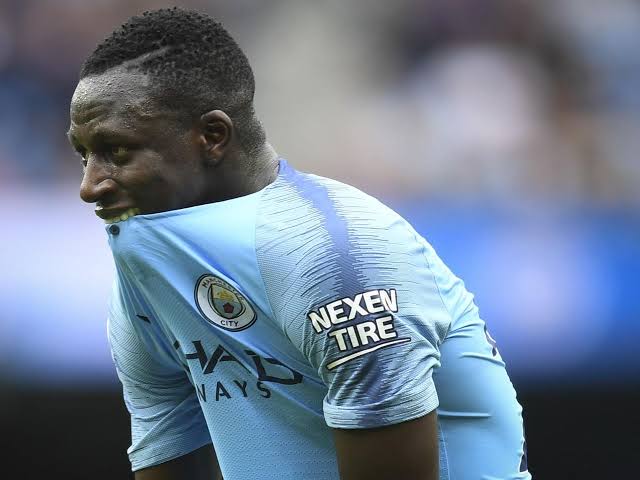 Embattled Manchester City player, Benjamin Mendy, has allegedly disclosed that he had sexual intercourse with at least ten thousand women.
A jury was told on Wednesday that Mendy raped a young woman and then told her, "It's fine, I've had sex with 10,000 women."
Naija News reports that Mendy is facing trial for allegedly attacking a lady who was said to be 24 years old at the time.
The event reportedly happened at Mendy's home in Mottram St Andrew, Cheshire, in October 2020.
The 28-year-old is also accused of the attempted rape of another woman, aged 29 at the time, who claimed the footballer also attacked her at his home two years before.
However, Mendy, standing trial at Chester Crown Court, denied both charges.
According to BBC, the jury, comprised of six women and six men, has been told by trial Judge Stephen Everett, the Recorder of Chester, that Mendy was found not guilty of sexual offences alleged by other women after a trial that ended in January this year.
Everett noted that the jury could not reach verdicts on the two charges of rape and attempted rape, hence his re-trial on those two charges.
At the opening of Mendy's trial, Benjamin Aina KC said: "Benjamin Mendy is a footballer who was under contract to Manchester City FC.
"He would have parties and social gatherings at his home, The Spinney, in Mottram St Andrew, Cheshire.
"He would have both male and female guests at his social gatherings.
"It is the prosecution case that on two occasions, Mr Mendy took advantage of two of his female guests.
"On one occasion he tried to have forced sex with a female guest, woman A. On another occasion, he raped a female guest in one of his bedrooms, woman B."
Mendy reportedly met woman A, a UK student at a nightclub in Barcelona in late 2017, and eventually she became intimate with one of his friends.
According to Aina, Mendy and the lady kept in touch and a year later, she arranged to visit the accused's friend at the footballer's house, where they stayed after they all went with other girls for a night out.
However, the morning after, when she took a shower in the ensuite bathroom, Mendy reportedly appeared uninvited, wearing just boxer shorts and was "aroused", the court was told.
The footballer is then alleged to have grabbed the woman and tried to rape her on the bed as she tried to struggle free, despite her repeatedly telling him to stop.
Two years later, woman B was reportedly out with friends at a bar in Alderley Edge, Cheshire, near Mendy's home, when they were invited back to the footballer's house.
She alleged the accused took her phone from her, which contained "intimate" photos, then led her to his locked bedroom, as she asked for her phone back.
According to Aina, Mendy told her "I just wanna have a look at you" and told her to remove her clothes. Woman B complied, leaving her underwear on, and Mendy then threw her phone on the bed.
As she went to retrieve it, Mendy allegedly took hold of her from behind and raped her despite her telling him she did not want to have sex.
Aina further told the jury: "At this stage, Mr Mendy took a step back and said 'you're too shy'.
"Mr Mendy said, 'It's fine. I've had sex with 10,000 women'."
The footballer told police on both occasions any sexual contact was consensual and denies any wrongdoing.
The trial continues.
---
---
© 2023 Naija News, a division of Polance Media Inc.