Full Transcript: What El Rufai Said About Peter Obi, Tinubu, 2023 Elections In Controversial Video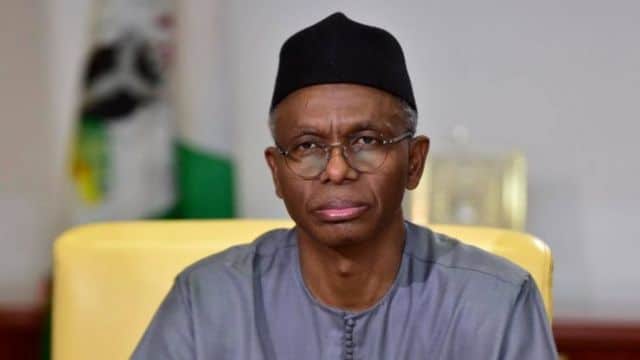 Former Governor of Kaduna State, Malam Nasir El-Rufai, has been under verbal attacks in the last few days after a video clip of him boasting about the promotion of a Muslim-Muslim government in Nigeria surfaced on the internet.
El-Rufai, in the viral video also seen by Naija News, spoke in the Hausa language addressing some Muslim clerics on why he chose to run a Muslim-dominated government in Kaduna State.
The former governor also boasted that the last Presidential election which the All Progressives Congress (APC) fielded a Muslim-Muslim ticket of Bola Tinubu and Kashim Shettima, was won because Muslim clerics prayed and promoted the Muslim-Muslim agenda.
El-Rufai also spoke about the defeat suffered by the presidential candidate of the Labour Party, Peter Obi, and how the Christian Association of Nigeria (CAN) was silenced.
A full version of the video obtained by Premium Times has since been transcribed into the English language for better comprehension by everyone.
It reads: "Now, a lot has been said about the federal government. It's true what Professor Akintola said, we the APC governors and we decided that the South should produce the next president because that was the promise that was made. It was a verbal agreement but God knows whether an agreement was written or verbal. When we discovered that some people were scheming that a northerner must be the next president, we said no. This is not what we are. We are Muslims, we're northerners, we've traditions and we can't back down on our pledges. We said no. That was the first step.
"The next step, when they agreed with that or when they noticed that they could do nothing, they backed down. We sat down to decide on who would be able to win the seat because he has what it takes to win an election and secondly we can bring an end to politics of religion and ethnicity in this country. We decided on Asiwaju (Bola Tinubu). When we took the decision to support Asiwaju, I was not on good terms with him, we were fighting. But Professor Akintola came with their leaders from Lagos and commended us for deciding that a Southerner should emerge. They said the Yoruba in the South-west have problems. When a Muslim wants to contest an election they'll say he shouldn't contest because he will not win an election. What they believed was that it's only a Christian from the South-west who can contest so a Muslim from the North is selected as his vice. They said it has not happened since Abiola; they wanted to replicate that. We asked them to go and decide on who would contest and they said Asiwaju. I told them I'm not on good terms with him but he (Akintola) said we should reconcile for the sake of Islam and I said we will reconcile.
"Asiwaju got the ticket and when he got it we knew he would have no option but to pick a Muslim as his vice; if not, he would lose the election. Just as I said, politics is all about calculation, there is no room for manoeuvre. God knows our intention. And I swear to God we stood our ground to actualise that, we didn't do it for our gain. Myself and Zamfara State governor, Bello Matawalle, didn't do it for any gain. Maybe the others needed something but me and Matawalle I did that to bring an end to the religious issue and to give Muslims from the South-west a sense of belonging to rule. And God… despite the religious gang-up, God made Asiwaju the winner.
"What we are able to achieve in Kaduna, we've now achieved it on the national level. There is no liar that can say he will do politics of Christianity and win the election. Peter Obi tried it but this is where he is now. We've brought an end to that. They've kept quiet. Ever since Asiwaju emerged, CAN has remained mute. This is how to ensure peace and stability in this country. If we do it again and again everything will be normal. To God, that was what we did. And some of us believe we've finished our work. Asiwaju has won and we've done our part. Our call is for you to pray for him to get the right people to work with."