Confusion Over Peter Obi's Candidate For National Assembly Leadership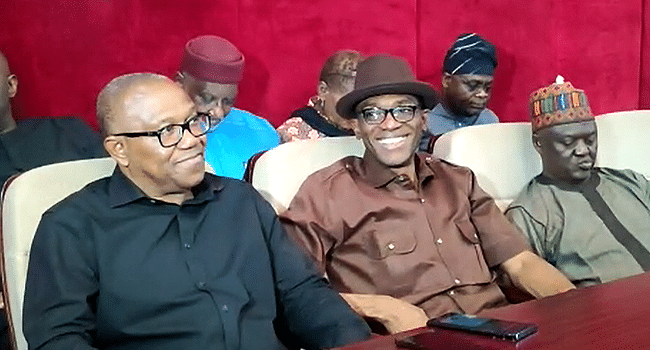 Controversy has continued to trail the meeting the presidential candidate of the Labour Party (LP), Peter Obi, had with lawmakers elected on the party's platform over the leadership tussle of the yet-to-be-inaugurated 10th National Assembly.
Naija News reports that supporters of the adopted candidates of the ruling All Progressives Congress (APC), Tajudeen Abass and Godswill Akpabio, are claiming Obi and his running mate, Yusuf Datti Baba-Ahmed, are backing Muktar Aliyu Betara and Abdulaziz Yari for the Speaker of House of Representatives and Senate President, respectively.
A member of the Labour Party accused the party's leaders of asking members-elect to vote against Akpabio and Abass.
Speaking to The Guardian, the source said: "First, we met with Datti, and he said unequivocally that we can't vote Tajudeen Abbas, Akpabio, or any other candidate the APC is supporting
"He told us that Abbas was endorsed by the APC to suppress him, and Benjamin Kalu was endorsed to suppress Alex Otti in Abia State. The meeting ended in a stalemate. The venue was Chopsticks.
"Another meeting was held on Monday, around Zone 5. Obi was present. He said he was endorsing Yari for Senate President and Betara for Speaker and compelled all LP members-elect to vote for Betara and Yari.
"Ideologically, he's forcing us. If that is the case, there's nothing new about LP. He was able to get one person away from the Abbas project. It is a female. He wants to force us to do what he wants. But no way!
"They plan to call us for another meeting this coming weekend. I think on Sunday. It will be to say that LP has decided to vote for Yari and Betara. He's telling us that the party is supreme. But how do we support someone that is rebellious against his party?
"If he calls for division, we'll have the majority, but he won't do that. At the meeting we held, some of us said we are adults, and we should be allowed to make our choices. So, we won't back down. How can Peter Obi, that people are shouting his name up and down as a democrat, now turn to be undemocratic?"
But in a swift reaction, a leading LP member and spokesperson of the House Minority Caucus, Victor Ogene, described the claim as baseless.
Ogene, who stated that the meeting was called by the party's leadership and not Obi, disclosed that the former Anambra State governor did not mention the name of any candidate.
He said: "The insinuation that Obi, national leader and presidential candidate of LP, is coercing members-elect to vote for a particular candidate in the Speakership race is a lie from the pit of hell.
"Yes, as a caucus, we met last night, but not at Obi's behest. The national chairman, Julius Abure, sent out the notice of meeting, and Obi was only invited as national leader of the party.
"After virtually all 27 members-elect present at the meeting had taken turns to speak, Obi, who was the first to leave because of another engagement, advised members to ensure, as much as possible, that they are united in arriving at a decision regarding who to vote for as presiding officers.
"Not once, throughout his about 15-minute speech, did Obi mention any aspirant by name. On the contrary, he urged the members to continue talking among themselves, under the guidance of the national chairman and the caucus leader."