Flying Eagles Goalkeeper Chijoke Aniagboso Signs For Ukrainian Club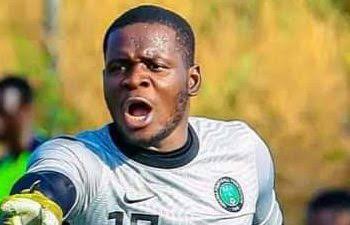 A newly promoted team in the Ukrainian Premier League, FC Polissya Zhytomyr, has signed Flying Eagles goalkeeper Chijoke Aniagboso.
The 19-year-old goalie is said to have signed a five-year contract, keeping him with Polissya Zhytomyr through the end of the 2027–2028 season, according to multiple reports in Ukraine.
Polissya Zhytomyr won the Persha Liha championship over the weekend with a 2-1 victory over LNZ Cherkasy.
Chijoke Aniagboso has played the entire 90 minutes in each game the Flying Eagles have played in the ongoing Under-20 World Cup in Argentina. He conceded three goals but still managed to keep a clean sheet in a 2-0 victory over Italy.
"The 19-year-old goalkeeper is a bronze medalist of the 2023 U-20 African Cup of Nations. He was involved in six games at the tournament and also currently represents his country at the U-20 World Cup. (ativan) Aniagboso will arrive before the 2023/24 season preparation," FC Polissya Zhytomyr said in a statement published on the club's official website.
Due to his outstanding performance at the 2023 Under-20 Africa Cup of Nations, Chijoke Aniagboso was part of the 23-man Super Eagles roster for the March doubleheader against Guinea-Bissau but didn't play in either game.
The Ukrainian team has been scouting at the Under-20 World Cup, which is currently taking place in Argentina. The club has also pre-signed Moses Jarjue, a defender from Gambia who competed at the Under-20 level. The youngster will join the club on July 1.