Mourinho, Ancelotti, Zidane Named On UEFA Advisory Council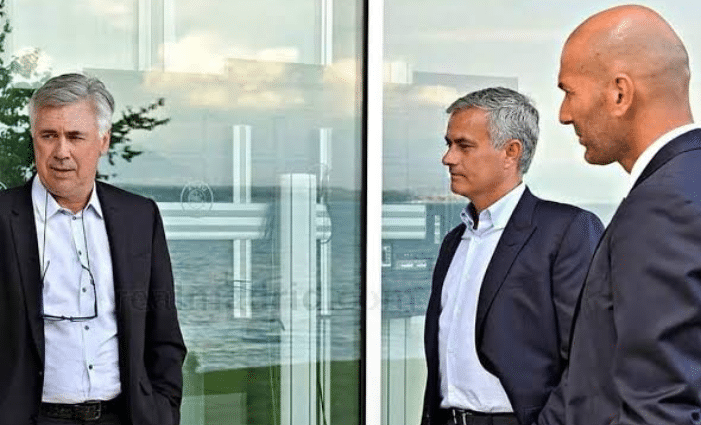 The European Football governing body, UEFA has invited some prominent managers and former players to serve on the UEFA advisory council.
Some of the renowned football managers who have been named to the advisory council are the current manager of Real Madrid, Carlo Ancelotti, and the current coach of Roma Jose Mourinho.
Former manager of Real Madrid, Zinedine Zidane, former Liverpool manager Rafael Benitez, Netherlands head coach, Ronald Koeman, England's head coach Gareth Southgate, and the head coach of Portugal, Roberto Martinez are also members of the council.
Retired football legends who are part of the Uefa advisory council include Petr Cech, former Czech Republic goalkeeper, Paolo Maldini, former Italy defender, Rio Ferdinand, former England defender, Luis Figo, former Portugal forward, and Robbie Keane, former Republic of Ireland striker.
According to a statement from the European football governing body, the newly formed Uefa advisory council will have its inaugural meeting on April 24.
During the proposed meeting, the members of the council are expected to discuss issues related to players' conduct, handball rule, and video-assisted referee (VAR) technology.
The purpose of the assembly of the council is to provide an institutional and independent voice of experience and expertise on fundamental football-related topics, including the laws of the game, refereeing, match calendar, elite youth development, and player well-being, according to UEFA.
Uefa president Aleksander Ceferin added, "Uefa is delighted to see that the very ones who have shaped the game's history with their talents and philosophy through decades are gathered again around our common goal – to protect the game of football and its essential values".
Below are all the members of the UEFA advisory council:
Jose Mourinho, Roma's manager
Eric Abidal, former France defender
Carlo Ancelotti, Real Madrid manager
Gareth Bale, former Wales forward
Rafael Benitez, former Liverpool manager
Fabio Capello, former England manager
Petr Cech, former Czech Republic keeper
Rio Ferdinand, former England defender
Luis Figo, former Portugal forward
Robbie Keane, former Republic of Ireland striker
Jurgen Klinsmann, South Korea manager
Ronald Koeman, Netherlands manager
Philipp Lahm, former Germany defender
Henrik Larsson, former Sweden striker
Michael Laudrup, former Denmark attacking midfielder
Paolo Maldini, former Italy defender
Roberto Martinez, Portugal's manager
Juan Mata, Galatasaray midfielder
Predrag Mijatovic, former Montenegro forward
Gareth Southgate, England manager
Patrick Vieira, former France midfielder
Rudi Voller, former Germany striker
Javier Zanetti, former Argentina defender
Zinedine Zidane, former Real Madrid manager