Chimamanda Sends Message To Joe Biden, Condemn America For Recent Action Towards Tinubu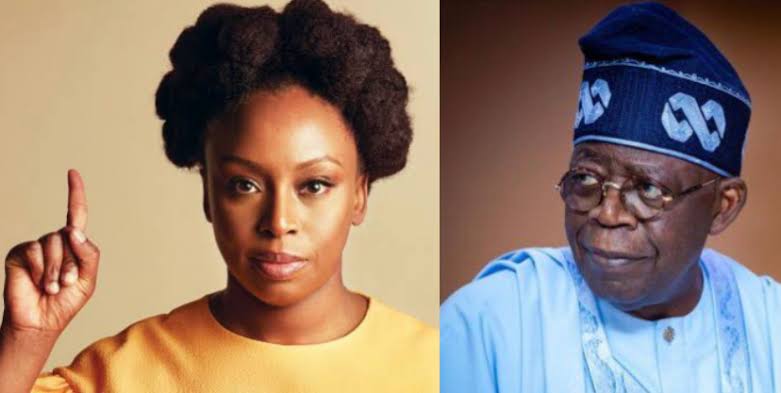 Renowned Nigerian writer, Chimamanda Ngozi Adichie, has berated the United States Department for congratulating Nigeria's president-elect, Bola Ahmed Tinubu, despite a flawed electoral process.
Speaking via an open letter to the President of the United States, Joe Biden, published on Thursday, Adichie called into question the authenticity of the election results, while referencing widespread reports of  violence, ballot box snatching, voter's intimidation, and other malpractices which marred the February 25 poll.
The mother of one also argued that the Independent National Electoral Commission (INEC) failed to deliver on its promise to upload election results from polling units in real-time via its result viewing portal.
Quoting Ned Price, the spokesperson for the US State Department, Chimamanda noted that the congratulatory statement itself mentioned that Nigerians were frustrated at the "manner in which the process was conducted and the shortcomings of technical elements that were used for the first time in a presidential election cycle".
She warned the United States president against being apathetic toward the current state of Nigeria by endorsing the results of the "undemocratic process,".
"You have spoken of the importance of a 'global community for democracy,' and the need to stand up for 'justice and the rule of law.' A global community for democracy cannot thrive in the face of apathy from its most powerful member.
"Why would the United States, which prioritises the rule of law, endorse a president-elect who has emerged from an unlawful process?," she wrote.
The author went on to state that most Nigerians are not really angry about their desired losing the election, but "because the election they had dared to trust was, in the end, so unacceptably and unforgivably flawed."
"Congratulating its outcome, President Biden, tarnishes America's self-proclaimed commitment to democracy. Please do not give the sheen of legitimacy to an illegitimate process. The United States should be what it says it is," she added.