Victor Osimhen Reportedly Lost His "Magical" Facemask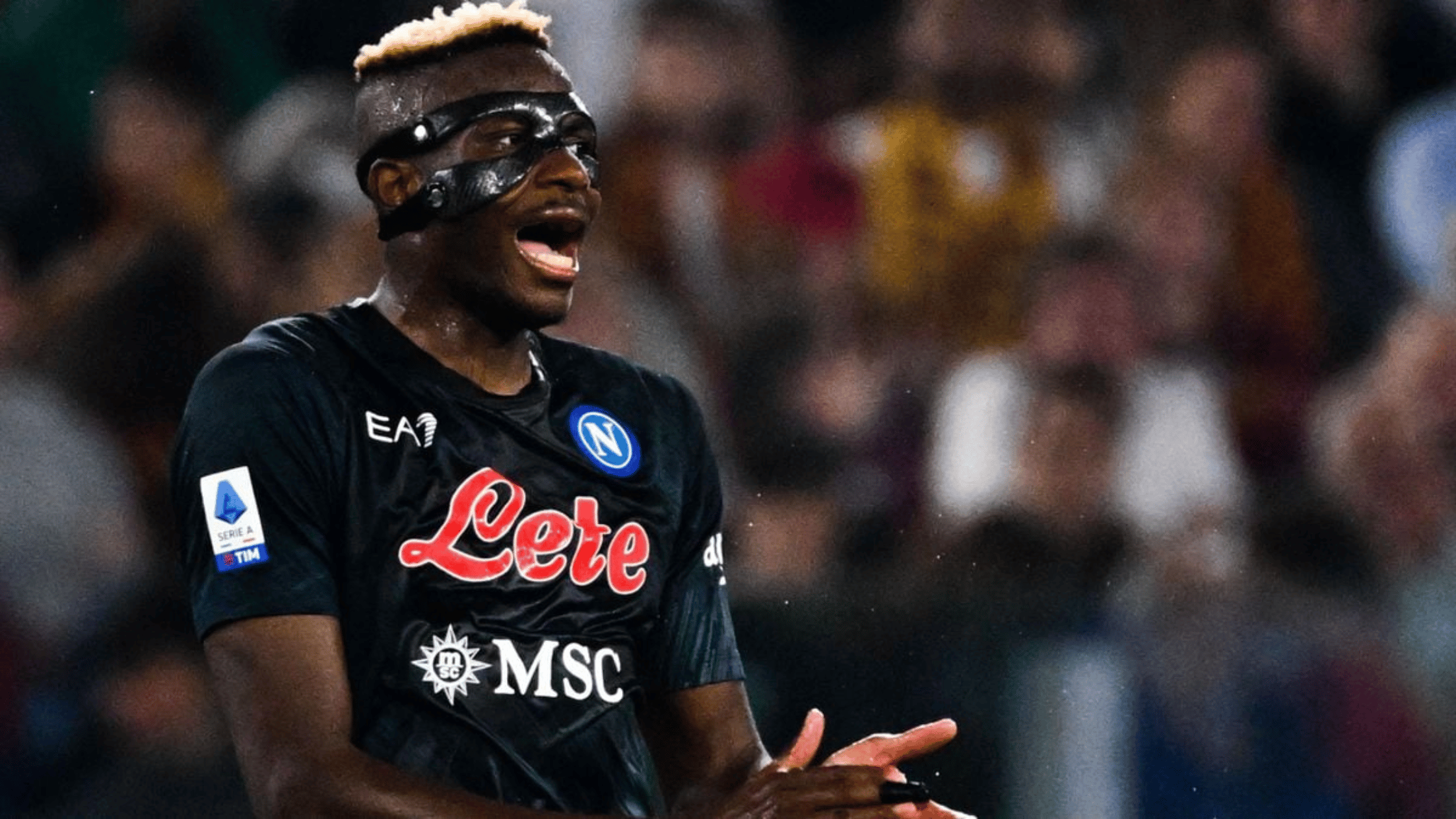 Nigerian forward, Victor Osimhen has reportedly lost his "magical" facemask while he was on an international break in Nigeria.
The black facemask which has become the trademark of Victor Osimhen since 2022 is said to have been a source of good luck for the 24-year-old Nigerian striker according to Napoli's fans in Naples.
Note that since Osimhen started wearing the facemask, the Napoli talisman has been in an extraordinary form.
In 2023 alone, he has scored a whopping 15 goals, three in the Champions League, 12 in Serie A, and has provided 2 assists for the Italian table leaders.
In all competitions this season, he has scored 25 goals and provided 5 assists in 29 games in all competitions which helped Napoli to remain top of the league and qualify for the UEFA Champions League quarter-finals.
Unfortunately, a report by the Italian media outfit, Calciomercato claimed that Osimhen misplaced his black facemask which has been his good luck charm, while on break in Nigeria in March 2023.
He would have to use a temporary mask while those who designed the lost one come up with a new one as soon as possible.
Recall that Osimhen started using the mask after he sustained multiple fractures on his left orbital and cheekbone in November 2021. After undergoing surgery, doctors designed a protective mask for him which he has been using since 2022.
"The protective mask, in addition to guaranteeing greater safety, has also become a sort of superstitious object", the Italian publication wrote.
"Osimhen lost it on his return from Nigeria; he realized he no longer had it and considering the great value given to superstition in Naples, the alarm has already been raised among Neapolitan fans.
"In the meantime, the orthopedic staff who built the mask will work to design a new one and deliver it to the player as soon as possible. It won't be ready by Sunday when the match against Milan takes place and Osimhen will have to use the old mask there."
Osimhen is expected to be available for Napoli Vs AC Milan clash on Sunday. However, there are reports that apart from misplacing his facemask, he returned from the international break with a minor injury.
Hence, there is a possibility that he might miss the league game and even the first leg of the Champions League quarter-finals against Milan on April 12.