Alex Ferguson And Arsene Wenger Become First Managers To Be Inducted Into PL Hall Of Fame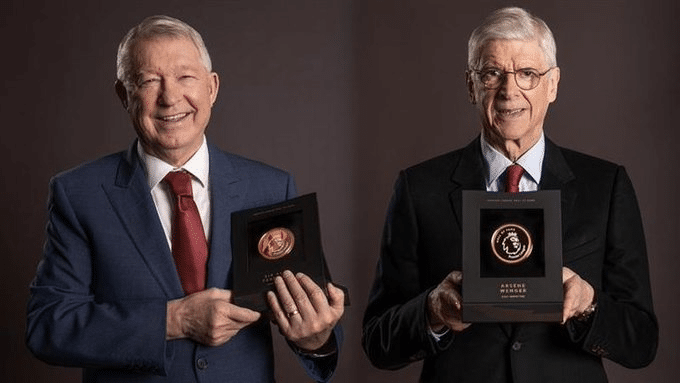 Two of the most successful managers in the history of the Premier League, Alex Ferguson and Arsene Wenger were inducted into the league's hall of fame on Wednesday, March 29.
Alex Ferguson and Arsene Wenger who won 16 English top-flight titles between them with Manchester United and Arsenal respectively are now the first set of managers to be inducted into the league's hall of fame.
Wenger entered the Premier League hall of fame after his former players at Arsenal Ian Wright, Dennis Bergkamp, and Thierry Henry had won the prestigious award.
Also, Ferguson joined his former Manchester United players, David Beckham, Eric Cantona, Roy Keane, Wayne Rooney, Peter Schmeichel, and Paul Scholes, on the list of people who have earned the award.
Why Alex Ferguson Deserves To Be Inducted into the Premier League Hall Of Fame
Naija News recalls that Alex Ferguson coached Manchester United for 26 years and made the club the most successful side in England.
Before he retired from coaching in 2013 at Old Trafford, the 81-year-old Scottish tactician led Manchester United to win the Premier League a record 13 times making him the most successful coach in the league's history.
Ferguson was the first manager to win the inaugural Premier League title in the 1992-1993 season which was also United's first league title since 1967. He is also the last Red Devils manager to win the league title for the club since 2013.
"It's an honor when you receive recognition like this," Ferguson said.
"However, it's not just about me as a person. It's about the job at Manchester United and the bond we had over many years, so I'm also proud of the club, the staff, and my players."
Why Arsene Wenger Deserves To Be Inducted into the Premier League Hall Of Fame:
Naija News recalls that Arsene Wenger became the coach of Arsenal in 1996 which makes him one of the first set of foreign managers in the league.
Before he left the north London club in 2018, Wenger led Arsenal to three Premier League triumphs. The most outstanding of them all was the one his team won in the 2003-2004 season in which they didn't suffer any defeat throughout the season (the invincibles).
Aside from winning the Premier League titles with Arsenal, the French tactician who is currently the chief of FIFA's football development is seen as the manager who brought sports science to the English game.
"To share this with Sir Alex is a great honor for me," Wenger said.
"It's like two boxers — you fight like mad and go the distance together. At the end of the day, you have respect and it will be a great opportunity to meet with him, share a good bottle of wine and memories of our old battles."
The retired coach added, "The dominance of Manchester United under Sir Alex remains unmatched after he guided them to an incredible 13 titles across 21 Premier League seasons."