Bode George Reacts To Ayu's Suspension, PDP Crisis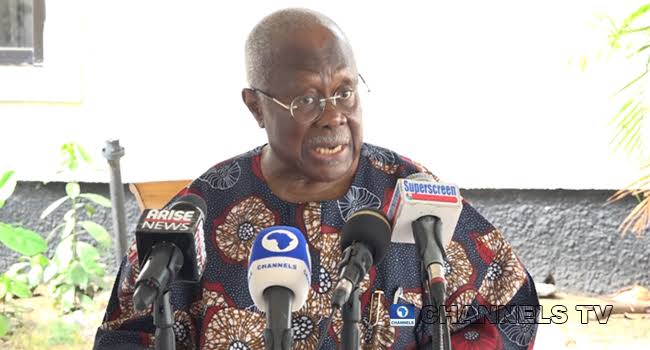 A former Deputy National Chairman of the Peoples Democratic Party (PDP), Olabode George, has said the embattled National Chairman of the party, Iyorchia Ayu, deserves the treatment he is getting now.
Naija News reports that George stated this during an appearance on Channels TV's Politics Today on Monday night, while reacting to Ayu's suspension.
He claimed that Ayu treated the PDP like his private company following the recent suspension of some notable members like the former Senate President, Anyim Pius Anyim; former Governor of Ekiti and Katsina States, Ayodele Fayose, and Ibrahim Shema, respectively.
George said he had warned Ayu to tread with caution on the crisis rocking the main opposition party to prevent it from collapsing.
He said, "You see, we warned (him). Remember our meetings. I had a one-on-one meeting with Ayu in his house one night that 'don't start what you can't finish'.
"You see, there are certain rules, the fundamentals that established the party by the founding fathers. I kept on saying 'look, the way you are treading, you will be dividing the party and a divided house will be a defeated house."
George also lamented that the suspension meted out to Fayose, Anyim and others by the Ayu-led PDP, noting that it shouldn't have come while the party was still in court disputing the February 25 presidential election.
He added: "This is not a private company. I'm pleading with them because that was how the ANPP (All Nigeria Peoples Party) went under. This ship will not go under.
"Let's wait and allow the courts to finish whatever they are doing, then there will be a serious post-mortem analysis where you will now know who did this, who did that, who can be punished. He was in too much of a hurry, suspending people as if it was a private company."