Kano Guber: NNPP Extends Lead Over APC In Tight Race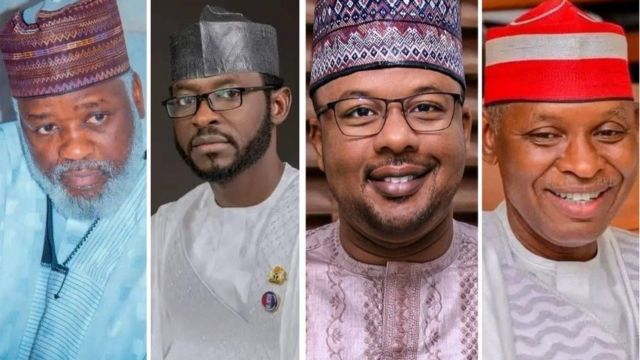 The New Nigeria Peoples Party (NNPP) has continued to extend its lead in a very tight race in the Kano State governorship election.
Meanwhile, the NNPP party agent at the State Collation center has alleged that thugs are currently attacking collation officers in Dala, Faggae LG while state collation is ongoing. He pleaded for reinforcements of security officers for the safety of INEC staff.
The returning officer however replied that the situation is under control and that the collation officer for Faggae has arrived with his result.
ALBASU LGA
APC: 16959
NNPP: 19952
PDP: 293
LP: 21
Registered voters: 101038
Accredited voters: 38305
Total valid votes: 37376
Rejected votes: 197
Total votes cast: 37573
They were cancellation of results in 10 PUs due to violence and over-voting.
MINJIBIR LGA
APC: 16039
NNPP: 17575
PDP: 189
LP: 174
Registered voters: 94186
Accredited voters: 37718
Total valid votes: 35916
Rejected votes: 991
Total votes cast: 36907
TSANYAWA LGA
APC: 18746
NNPP: 16769
PDP: 71
LP: 57
Registered voters: 80477
Accredited voters: 36557
Total valid votes: 36060
Rejected votes: 436
Total votes cast: 36496
KARAYE LGA
APC: 14515
NNPP: 15838
PDP: 77
LP: 80
Registered voters: 85557
Accredited voters: 32172
Total valid votes: 30912
Rejected votes: 427
Total votes cast: 31339
WUDIL LGA
APC: 20299
NNPP: 21740
PDP: 118
LP: 202
Registered voters: 116966
Accredited voters: 45335
Total valid votes: 43663
Rejected votes: 770
Total votes cast: 44433
KUNCHI LGA
APC: 13215
NNPP: 10674
PDP: 39
LP: 59
Registered voters: 64928
Accredited voters: 25306
Total valid votes: 24385
Rejected votes: 367
Total votes cast: 24752