APC Opens Up Lead In Katsina State, Wins All 17 LGAs Announced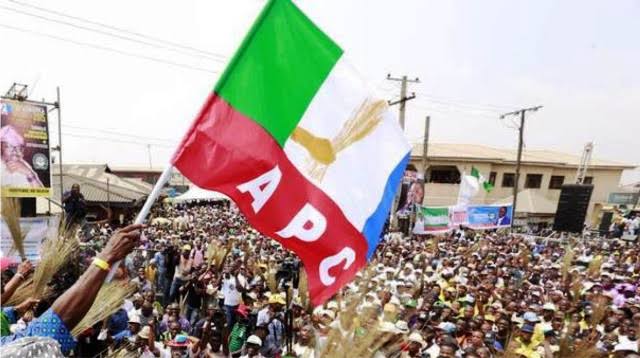 The All Progressives Congress (APC) has assumed an early lead in the Katsina State governorship election race according to results so far released by the Independent National Electoral Commission (INEC).
Naija News reports the APC has won all 17 local government area election results so far declared by INEC.
From the 17 LGAs announced so far, the governorship candidate of the All Progressives Congress (APC), Dr Dikko Umar Radda has so far polled 413,066 votes while his closest rival from the Peoples Democratic Party (PDP), Sen. Lado Yakubu Danmarke secured 213,737 votes.
The collation officers for each of the 17 LGAs presented their results at the INEC Collation Centre on Sunday while the results of other LGAs are being awaited.
Find the results of the 17 LGAs below:
1. MUSAWA LGA
Registered: 84131
Accredited: 35979
Cast: 35941
APC – 24,632
LP- 36
PDP – 10,118
NNPP- 580
PRP – 16
2. ƊANDUME LGA
Registered: 97,406
Accredited: 41,071
Valid: 39,115
Rejected: 529
Cast: 39,645
APC – 23,710
PDP – 14,792
NNPP- 220
PRP – 146
3. DUTSI LGA
Registered: 64,743
Accredited: 24,298
Valid: 24119
Rejected: 161
Cast: 24,280
APC – 15,631
PDP – 8,419
NNPP- 10
PRP – 10
4. BAURE LGA
Registered: 11,3640
Accredited: 52,678
Valid: 50,894
Rejected: 1486
Cast: 52,680
APC – 32,802
PDP – 17,888
NNPP- 62
PRP – 12
5. SANDAMU LGA
Registered: 74,399
Accredited: 31,877
Valid: 31,738
Rejected: 132
Cast: 31,870
APC – 21,055
PDP – 10,641
NNPP- 01
PRP – 03
6. INGAWA LGA
Registered: 86,957
Accredited: 36,034
Valid: 34,929
Rejected: 1,066
Cast: 35,995
APC – 22,080
PDP – 12,255
NNPP- 209
PRP – 217
7. BATAGARAWA LGA
Registered: 100,069
Accredited: 41,301
Valid: 40,355
Rejected: 768
Cast: 41123
APC – 26,326
PDP – 13,510
NNPP- 212
PRP – 81
8. BINDAWA LGA
Dr Bagudu Adamu Collation Officer
Registered 88,793
Accredited 42922
Cast 42741
Valid 42305
Rejected 436
APC – 28997
PDP – 12165
NNPP- 957
PRP – 47
SDP – 06
9. KAITA LGA
Dr. Hanifat Abdulraheem Collation Officer
Registered 76526
Accredited 35568
Cast 42741
Valid 34207
Rejected 912
Cast 35119
APC – 24121
PDP – 9824
NNPP- 53
PRP – 20
SDP – 04
10. MAI ADUA LGA
Garba Abubakar Isiyaku – Collation Officer
Registered 88617
Accredited 40768
Valid 40130
Rejected 435
Cast 40565
APC – 28436
PDP – 11506
NNPP- 68
PRP – 10
SDP – 03
11. ZANGO LGA
Mustapha – Collation Officer
Registered 73235
Accredited 30659
Valid 30324
Rejected 268
Cast 30592
APC – 19757
PDP – 10477
NNPP- 04
PRP – 14
SDP – 04
12. RIMI LGA
Umar Saidu – Collation Officer
Registered 95642
Accredited 43188
Valid 42629
Rejected 538
Cast 43167
APC – 28202
PDP – 13823
NNPP- 397
PRP – 37
SDP – 10
13. KUSADA LGA
Kamaludeen Suleiman Kabo – Collation Officer
Registered 61313
Accredited 25602
Valid 24984
Rejected 392
Cast 25376
APC – 13750
PDP – 11151
NNPP- 05
PRP – 17
SDP – 02
14. MANI LGA
– Collation Officer
Registered 114440
Accredited 43718
Valid 46,347
Rejected 974
Cast 47321
APC – 29678
PDP – 16180
NNPP- 231
PRP – 28
SDP – 10
15. SAFANA LGA
Ayinde Abdulrazak – Collation Officer
Registered 83882
Accredited 26879
Valid 26129
Rejected 715
Cast 26844
APC – 15417
PDP – 10450
NNPP- 09
PRP – 53
SDP – 143
16. FUNTUA LGA
AL – Collation Officer
Registered 147391
Accredited 53353
Valid 52601
Rejected 705
Cast 53306
APC – 31924
PDP – 19849
NNPP- 314
PRP – 218
SDP – 03
17. DAURA LGA
Registered 97136
Accredited 38186
Valid 37549
Rejected 492
Cast 38041
APC – 26548
PDP – 10689
NNPP- 78
PRP – 27
SDP – 08