2023 Guber Election: Bauchi Governorship Candidates Sign Peace Accord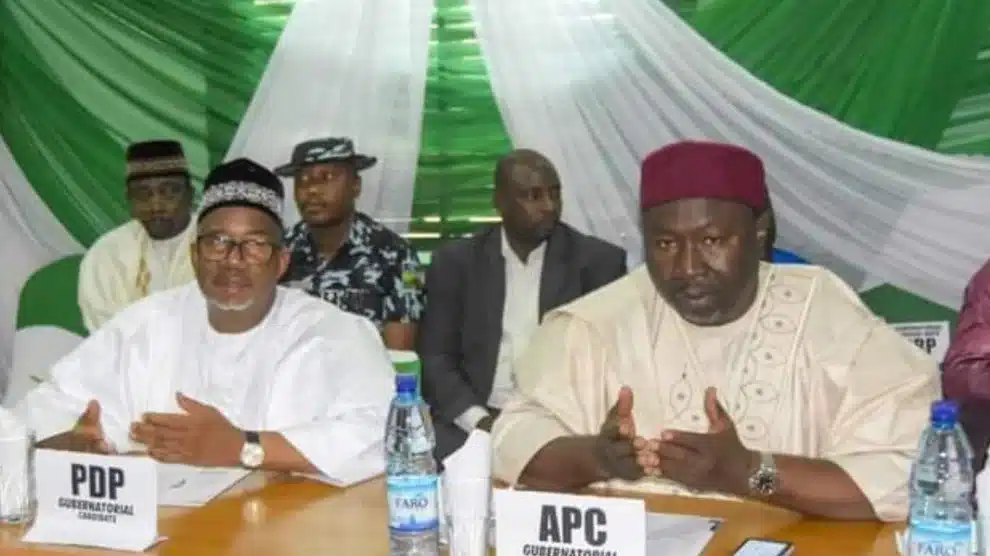 Ahead of the March 11 gubernatorial elections, candidates of seven political parties in Bauchi State have penned their signature on a peace accord to ensure peaceful conduct of the civic exercise.
The governorship candidates that responded to the event include Bauchi State Governor, Bala Mohammed (Peoples Democratic Party); Haliru Jika (New Nigerian People's Party); Sadique Abubakar (All Progressives Congress) who was represented by his running mate, Shehu Musa.
Others are the candidates of the Labour Party, Young Progressive Party, Zenith Labour Party and the People's Redemption Party.
Naija News understands that candidates of the African Democratic Congress and the Action Congress were absent neither were they represented at the event held on Wednesday at the Conference Hall of the Police Headquarters, Bauchi State.
Also, men of the Nigerian Army, Department of State Services, Nigeria Security and Civil Defense Corps, Nigerian Customs Service, National Drug Law Enforcement Agency, Nigeria Immigration Service, and the Nigerian Correctional Service were present.
The Commissioner of Police in the state read sections 125 and 126 of the Electoral Law 2023 (as amended) to the political parties and the candidates and warned them to abide by the law.
He said, "Any person who, at an election, acts and incites others to act in a disorderly manner commits an offence and is liable on conviction to a maximum fine of N500,000 or imprisonment for a term of 12 months or both.
"Sec. 126 also says that 'no person shall do any of the following acts or things in a polling unit or within a distance of 300 metres of a polling unit on the date on which an election is held; canvass for votes; solicit for the vote of any voter; persuade any voter not to vote for any particular candidate, persuade any voter not to vote at the election or be in possession of any offensive weapon or wear any dress or have any facial or other decoration which in any event is calculated to intimidate voters.
"A person who contravenes any of the provisions of this section commits an offence and is liable on conviction to a fine of N100,000 or imprisonment for a term of six months for every such offence."
Naija News understands that the governorship candidates present expressed happiness with the signing of the peace accord and assured the residents of the state and law enforcement officers that they would play by the rules.
In his address, Governor Mohammed said, "We are very committed to ensuring that there is peace during the election. They (INEC) should make sure that logistics are correct, to make sure that they don't use their federal might to brutalise and sectionalise the election, to make sure that there are no sacred cows, to make sure that the BVAS works and the correct data are carried, and they gave us a firm commitment.
"We are looking for justice and as leaders, we are committed that the election is rancour-free."
On his part, the candidate of the NNPP said, "As a law-abiding party in the country and as a serving Senator and based on the provisions of the Electoral Act and the Constitution of the Federal Republic of Nigeria 1999 (as amended), I assure you that the NNPP will play by the rules of the game and victory would be ours by the grace of God."