2023: Peter Obi Will Likely Come A Distant Third, APC Presidential Campaign Council Rejects Poll Result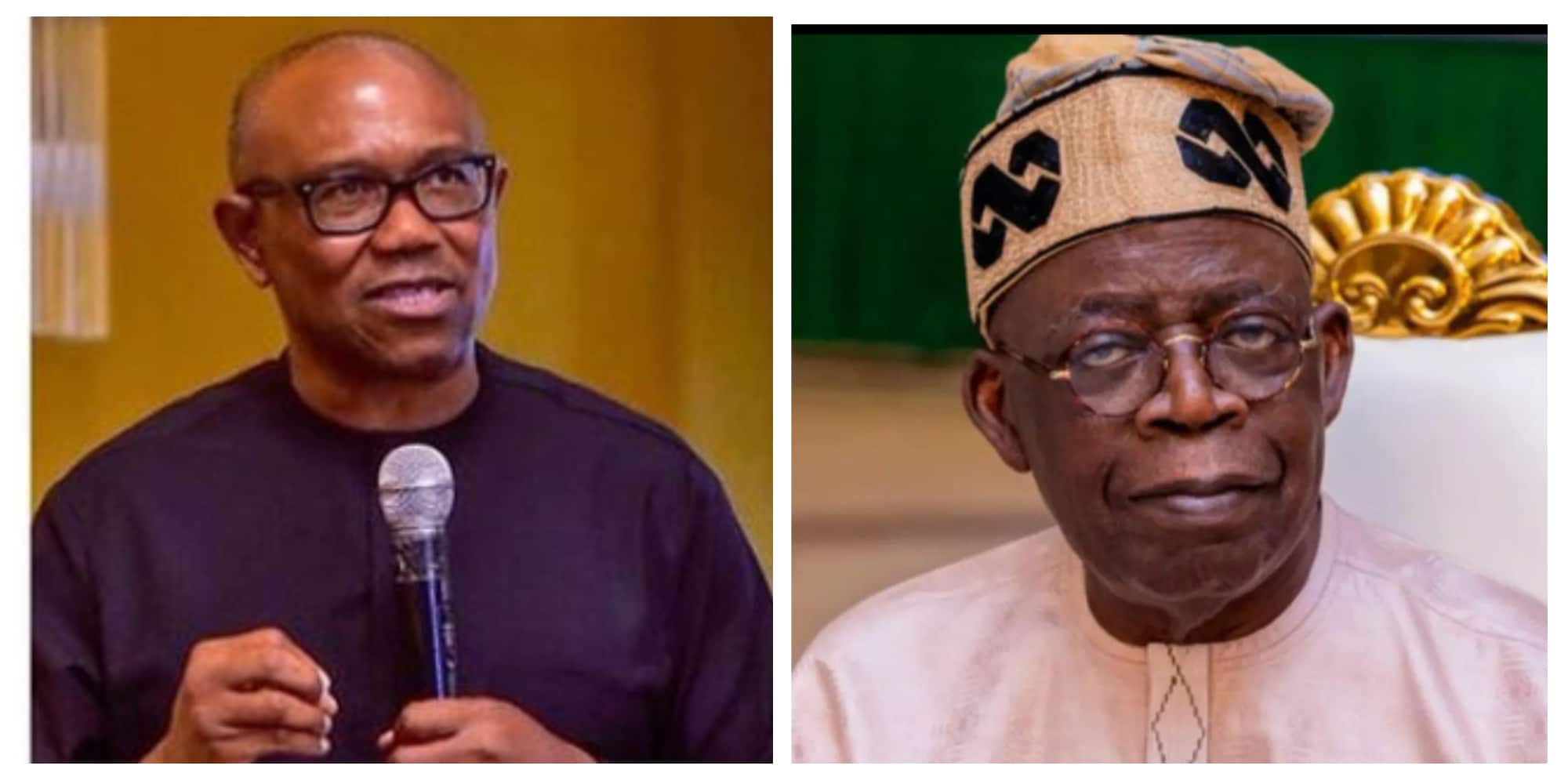 The Presidential Campaign Council (PCC) of the All Progressives Congress (APC) has rejected the poll result by Nextier which said the Labour Party (LP) candidate, Peter Obi would defeat APC flagbearer, Bola Tinubu in the 2023 presidential polls.
The PCC said the Nextier polls were intentionally designed to cause crisis and political riots in Nigeria by embarking on protests similar to the #ENDSARS protests of 2020 if results don't go their way.
Naija News earlier reported that the latest Nextier poll result puts Labour Party's Peter Obi in the lead with 37% of the 2023 presidential results, followed by the Peoples Democratic Party (PDP) with 27% and the APC with 24%.
However, while rejecting the poll projection, the APC campaign council said that Peter Obi will likely come a distant third in the February 25 election.
This was contained in a reaction by the PCC of the APC in a statement by its Director, Media and Publicity, Bayo Onanuga who added that the poll is totally false and has the agenda to create confusion and chaos in Nigeria.
"We suspect that their first and second fallacious poll results are pretext to cause political crisis and riots in Nigeria after the February 25. They may be preparing ground for violent protest by Obi supporters who will allege rigging when their candidate is roundly defeated at the election, in which he is not likely to even come a distant 3rd.
"We are constrained as a matter of public record to react to another farcical Presidential Election Poll result released by an organisation that calls itself Nextier, a public policy advisory firm that overnight turned itself into a Nigerian Gallup Poll or Ipsos.
"We are reacting for the sake of unsuspecting Nigerians, so that they are not misled by the Patrick Okigbo-led organisation, which appears to have the agenda to create confusion and chaos in our country," Onanuga said.
Poll Result Ridiculous
Speaking further, Onanuga said the organization which conducted the polls is loyal to Peter Obi which makes their poll result subjective.
He added that it beats every sense of reasoning that Obi would defeat Asiwaju Bola Tinubu in Lagos State and the entire southwest and also defeat the Peoples Democratic Party (PDP) flagbearer, Atiku Abubakar in his home state of Adamawa.
"This is apart from the fact that the sample size of the so-called poll and methodology employed cannot stand any integrity test.
"It is quite ludicrous that Nextier Poll that projects a clean sweep of the South East Region at over 90% of registered votes also puts Peter Obi ahead of APC Presidential candidate, Asiwaju Bola Ahmed Tinubu in the six South West States including Lagos.
"Assuming without absolutely conceding that Peter Obi will enjoy home advantage in his part of the country, we then wonder why the pollsters at Nextier, if they have any modicum of respect for the intellect of Nigerians, thought the factors that will propel landslide victory for Obi in South east will not work for the APC candidate in his own South West base.
"Nextier Pollsters also put Labour Party ahead of Alhaji Atiku Abubakar, the Peoples Democratic Party Candidate in his home state of Adamawa.
"How more ridiculous can Nextier Pollsters get? Nextier Pollsters called the entire South-South Region for Labour Party at 60% in Akwa-Ibom, the base of Chairman of PDP presidential campaign council," he stated.
Peter Obi Is Not A Major Contender
The APC presidential campaign team further rubbished the poll result which put Peter Obi in the lead by saying the Labour Candidate is not a major contender in the 2023 election.
The council also said that the projection that the 2023 elections would be determined by a run-off is not realistic.
The statement continues: "The partisan pollsters gave Bayelsa 62.9% to Labour Party and also claimed LP would win Delta 65.9 %, home of PDP Vice Presidential Candidate.
"The jesters in Nextier also claimed Obi would win Rivers by 77.8%, Edo 76.9% and Cross Rivers 63.2%. It did not matter to them that in these states, Labour Party has no serving councillor in any ward.
"The summary of Nextier's so-called face-to-face nationwide poll is that Peter Obi is the preferred candidate of 37% of Nigerians with a conclusion that the Presidential election will go into a run-off.
"We make bold to say this is wishful thinking without any basis in fact and reality.
"It is important to alert Nigerians and the international community that the Pollsters at Nextier are working for the Labour Party and their poll results are all cooked up, far away from reality.
"We want to state categorically that Peter Obi is not a major contender in the coming presidential election in Nigeria and no fantasy and fairytale poll can change the material facts.
"We want to put it on record that Nextier Poll is useless for three reasons:
"First, the sample size of 3,000 is statistically too insignificant in an election with over 93 million registered voters and admits greater margins of error than claimed.
"Second, the distribution of the sample neither reflects voter demographics nor variations in voters turnout across states.
"Third, the main objective of Nextier Poll is to report a predetermined conclusion so that when Labour Party loses by a wide margin, its rabid supporters can embark on other violent protests, similar to the destructive #ENDSARS riots of 2020."