Pep Guardiola Praises Nathan Ake For Man City's Victory Over Arsenal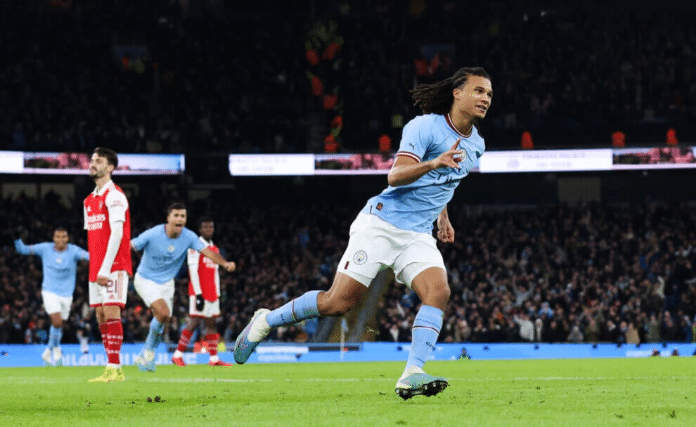 The manager of Manchester City, Pep Guardiola has hailed his center-back, Nathan Ake, for the club's victory over Arsenal in the FA Cup 4th round.
Premier League table leaders, Arsenal, and second-place Manchester City faced each other for the first time this season on Friday. Thanks to a strike from Nathan Ake in the 64th minute, the game ended in a 1-0 victory.
Aside from scoring the winning goal, the 27-year-old Dutch defender ensured that the tricky Arsenal winger, Bukayo Saka, did not do much in the 18-yard box.
At the end of the game, Manchester City qualified for the FA Cup fifth round after successfully knocking out the in-form Gunners from the competition.
During the post-match press conference, coach Guardiola described the Netherlands international as an "exceptional guy".
"We were better in the second half. Arsenal have taken a step forward. It was a tight game and you realize how good a side they are," Guardiola said.
"What a season he [Ake] is playing. He controlled one of the toughest opponents in the Premier League because Bukayo Saka is in an incredible moment. He is really good in the duels in the box, defending the far post and set pieces is a bonus.
"He is an exceptional guy, there was a period where he didn't play and he never complained once. As a manager, you want players like Nathan. He deserves all the good things in life."
Now that Arsenal's dream of winning their record-extending title is over, their attention will fully shift to the Premier League. Their next league game is against relegation-threatened Everton on February 4.
However, one of the biggest dates for the Gunners in the Premier League this season is their meeting with Manchester City at the Emirates Stadium on February 15. A win for City on the said date could spell doom for Arsenal's title hopes.