Netizens Slam Zubby Michael For Sharing A Video Of Himself Bathing A Baby Girl On IG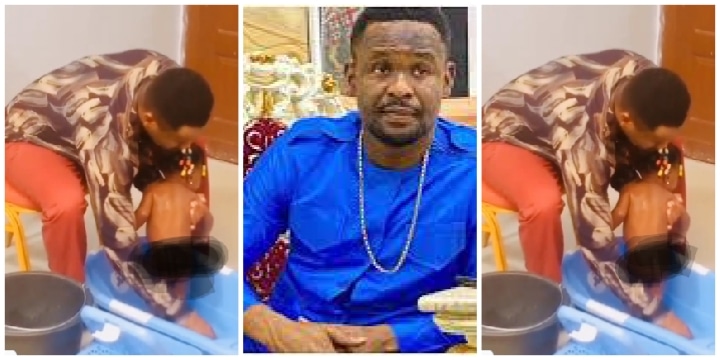 Netizens have berated Nollywood star, Zubby Michael for sharing a video of himself bathing a baby girl.
The thespian took to his Instagram account to post a clip from a movie scene.
In the video, Zubby unclothed the baby, playfully carried her up, before putting her inside the tub, and then commenced to give her a bath.
However, netizens disapproved of the video, insisting that it was inappropriate to put out the naked video of a child.
Below are comments from Nigerians
Skizzy, "Why naked a little kid on gram just to prove a point to the general public, any sense in that."
Ikjo, "Please delete this is not right please."
Amoan, "Please it is wrong to show a child's nakedness to the public can you please take it down."
Kpelle, "Why show her womanhood to the public."
Benita, "This is wrong please."
Beach, "You can't expose a child like this."
Ziiconsult, "I just read comments and I laughed some of you take life too serious that is why una dey where una dey."
Pretty, "This is totally wrong please delete asap."
Prince, "I love this because it is not good to leave everything for women."
Bettychi, "You will make a good father though."