2023: Man Who Talks Too Much Can Not Work With Atiku – Wike's Camp Kicks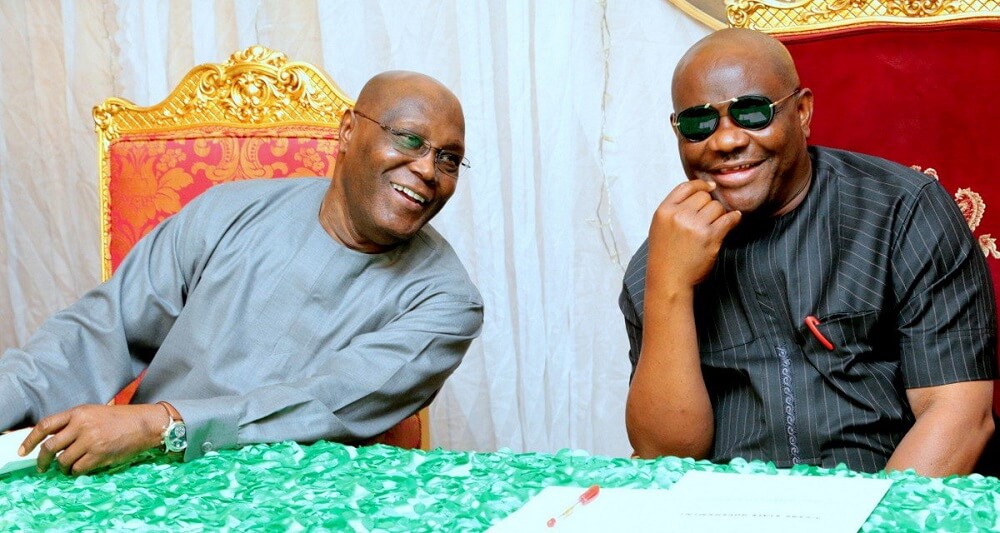 The camp of the Governor of Rivers State, Nyesom Wike has reacted to the reconciliation move by the presidential candidate of the Peoples Democratic Party, Atiku Abubakar.
Naija News had earlier reported that the former Vice President has set up a committee to woo Wike and other aggrieved members of the PDP ahead of the 2023 general election.
A former member of the House of Representatives, Ogbonna Nwuke, wondered why the Atiku committee would want the support of Wike whom they claim talks too much.
Nwuke while speaking about the committee's move with Punch on Tuesday said, "On one hand, somebody says he (Wike) talks too much, who probably is uncontrollable. And then, on the other hand, you want him to help your cause. You want victory and you think he can contribute to your victory. Is that not a contradiction?
"There was an attempt to draft a man who was not interested in the vice-presidency into the vice-president; a committee set up, the caucus spoke, the national working committee of the party spoke favourably about Wike and it was not honoured."
"Atiku did what he wanted to do. So what committee is he setting up again? To do what? It doesn't make sense.
"When the convention was over, nobody showed him the way to Wike's house. If he wants Wike to work with him, he should walk to the Governor of Rivers State and speak with him. We don't need committees, what will the committee do? It doesn't make sense to me.
"I don't know why relationships shouldn't be exploited. What is this committee thing? You have something else in your mind, you set up a committee to do something else. What is the meaning of that?"
"For the avoidance of doubt, Governor Wike had said no matter what happens he would not leave the PDP. That was what he said.
"The implication is that a man who is committed to the PDP will work for the PDP, whether you set up a committee or not. And that is my personal opinion."