2023: Wike Mocked After Atiku Confirms Okowa As Running Mate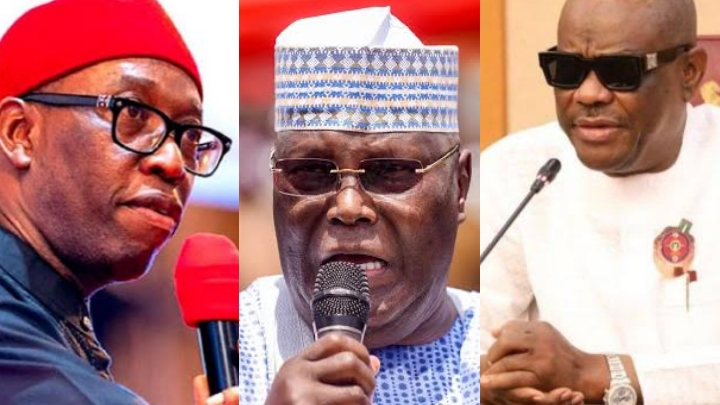 The unveiling of Governor Ifeanyi Okowa over Governor Nyesom Wike as the running mate of the PDP Presidential candidate, Atiku Abubakar, has attracted mockery from Nigerians.
Naija News reports that Atiku officially unveiled Okowa as his running mate at the party's National Secretariat today after Okowa was screened and cleared by a Screening Committee.
Okowa had earlier arrived at the PDP National Headquarters, Wadata Plaza in Abuja to attend the vice-presidential screening exercise scheduled by the National Working Committee (NWC).
Speaking at the unveiling ceremony, Atiku revealed that he chose Okowa because he has the qualities to be President and has an appreciation of the deep rot in which the country has been put into.
The PDP Presidential candidate added that he chose Okowa because he is dedicated, and reliable and would support him wholeheartedly to steer the country to greater heights.
Atiku also said he is equally hopeful that Okowa would help him and the party regain power in the 2023 presidential election and eject the APC from Aso Rock.
Okowa's emergence as Atiku's running mate has, however, generated a barrage of reactions on social media as netizens mocked Wike who as a strong contender in the race for the VP slot could not cliche the position.
Reacting to Atiku's confirmation of Okowa via Instagram handle, a netizen wrote; "After Wike has wasted rivers state people's money (5million dollars) just to get a vice, they nor still choose am, I think no one wants to associate with loquacious human being sha. But then, waste of time for you all, because Peter Obi is the real 2023 deal lol"
Another netizen said; "wike said I don't wanna be Vice President I want to be a president"
oluwaseunsakaba45 wrote; "Atiku can't pick wike 😂😂😂wike na mad man 😂😂he go over throne am put keys for bonny river"
One abimbolaicey wrote; ''Wike in the potopoto"
sound._god wrote; "WIKE is now a perfect description of "NEVER walk alone don dey STRANDED for OGBOMOSHO fly-over bridge"