Atiku Announces Okowa As Running Mate, Reveals Reasons For Choice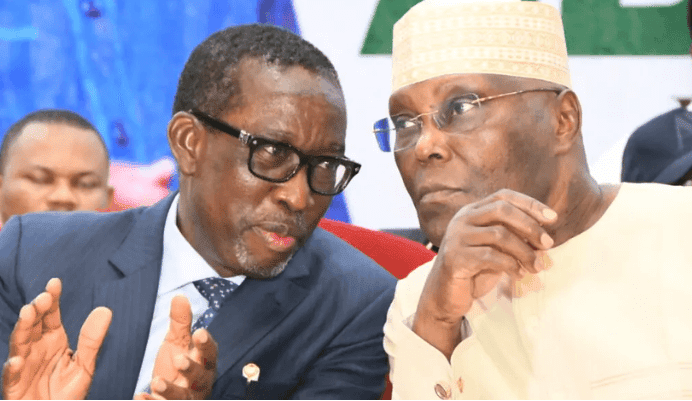 The Presidential candidate of the Peoples Democratic Party, Atiku Abubakar, has officially announced Governor Ifeanyi Okowa as his running mate for the 2023 general elections.
Naija News reports that Atiku officially unveiled Okowa as his running mate at the party's National Secretariat after the Delta governor was screened and cleared by a Screening Committee on Thursday.
Okowa had earlier arrived at the PDP National Headquarters, Wadata Plaza in Abuja to attend the vice-presidential screening exercise scheduled by the National Working Committee (NWC).
Speaking at the unveiling ceremony, Atiku revealed that he chose Okowa because he has the qualities to be the President and has an appreciation of the deep rot in which the country has been put into.
The PDP Presidential candidate added that he chose Okowa because he is dedicated, trustworthy, and reliable and would support him wholeheartedly to steer the country to greater heights.
Atiku also said he is hopeful that Okowa would help him and the party regain power in the 2023 presidential election and eject the APC from Aso Rock.
Atiku added that the Delta governor is someone who is not afraid to speak his mind and give honest advice, adding that he is happy to pick Okowa after much consultation.
He said: "It is a difficult decision that I am called to take. But, as someone hoping to lead a complex country such as ours, tough and difficult decisions would remain a part of my everyday life.
"Let me, therefore, start this momentous journey with a crucial decision about who, among the eminently qualified shortlist, would be my Running Mate.
"Accordingly, let me state that the person I have chosen as my Running Mate possesses all those identified qualities. He personifies not only the seriousness the current moment represents for our country but also the future that our young people yearn for and deserve.
"He is a serving State Governor who has demonstrated, in his State and through his conduct, that governance is about service to the people.
I know that he will not only add excitement to our already energized ticket and campaign but will also help to bring focus, discipline and stability to our government, come 2023.
"I am pleased, therefore, to announce here my choice of Running Mate who will help to lead us to victory next year not only in the Presidential election but also in the governorship and legislative elections. And he will be by my side as I work hard every day to provide our people with security, revive our economy, improve education and unite our country.
"He has both Legislative and Executive experience. Please join me in welcoming to the ticket the next Vice President of the Federal Republic of Nigeria, His Excellency Governor Dr. Ifeanyi Arthur Okowa.
"You know him to be a fighter; you know him to care about winning; you know him to care about good governance, and you know him to care about our people. Now, my dear friends, let's do the disciplined hard work necessary to win this election. Let's go."