Super Eagles Star, Ahmed Musa Donates To Former 96 Olympics Player Turned Bus Operator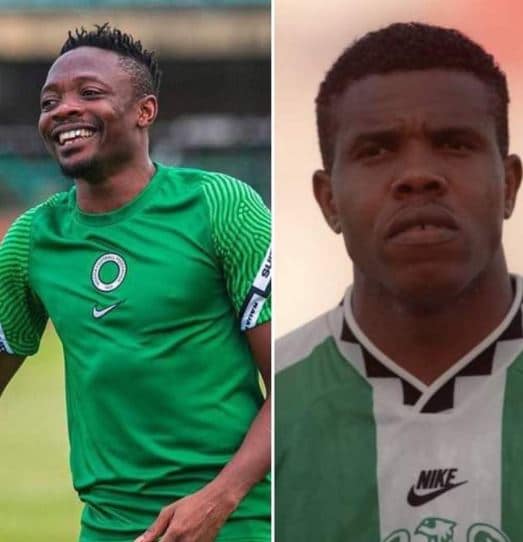 Super Eagles star, Ahmed Musa has offered a kind donation of two million naira to one of the members of the Atlanta '96 Olympics Gold medal-winning Dream Team, Kingsley Obiekwu, who's now a commercial bus operator following his financial struggles.
This came after reports of the economic woes which forced the Olympics player to become a commercial transporter plying between Enugu and Awka.
A Facebook user, Okwuluora wrote; "At Abakpa Motor Park, I saw former Super Eagles Defender Kingsley Obiekwu (Shagari Udoji) loading buses and driving Sienna to Nsukka. I hugged and greeted him then cried like a man Life can be cruel Yes. He never made it to the highest level Yes but where are his teammates. I will tell Kanu Nwankwo about this. They won Olympics together in Atlanta. Obiekwu last made headline when his younger brother died in the field of play. A National Hero, an idol to millions, an Olympic Gold Medalist. We can help him again if he is willing. That environment is not for him."
Musa's gesture came following the media reports on the dwindling fortunes of the Delta-born versatile defender who played for Rangers International FC, Enugu, and Udoji United in his days.
The 96′ player while speaking to newsmen noted that he went into the transport business to sustain his family.
He also attributed his difficulties to debts owed him by several clubs, including Senator Ifeanyi Uba, owner of FC Ifeanyi Uba.
He also revealed that promises made for players of the Dream Team by Delta and Niger states are yet to be fulfilled.
He stated that his former employees owe him over N6 million cumulatively.
Although Kingsley now coaches INGAS FC, Enugu, he has to combine the coaching job with the commercial transport business to make ends meet.
"Yes, I am a commercial transporter, there is nothing to hide about it. Man has to do what is legal to pay his family bills.
"I have four children at the Enugu State University of Technology and my last child is in primary five," he had said.