Some Prominent Nollywood Actors And Actresses That Died In 2021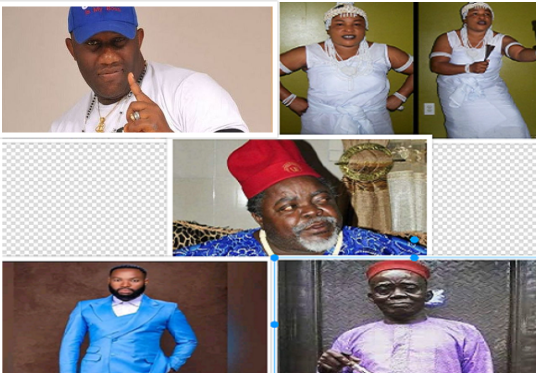 While death is inevitable for all, some Nollywood actors and actresses bid the world a final goodbye in the course of the year 2021.
Below is a compilation of some of them done by Naija News correspondent.
1. Baba Suwe
Veteran Nollywood Yoruba comic actor, Baba Suwe whose real name is Babatunde Omidina, died on 22nd November, 2021.
The shocking news of his death was announced on Monday by his son, Adesola Morenikeji Omidina, who posted it via his official Instagram page, @omo_omidina.
Though the real cause of his sudden death wasn't disclosed, Baba Suwe was believed to have been battling illness for a long time before his demise.
The remains of the late actor was buried on Thursday, 25th November at his Ikorodu residence in Lagos state.
2. Rachel Oniga
Veteran actress, Rachel Oniga died in July 2021 at the age of 64.
The screen goddess who began her acting career in 1993, shortly after her divorce featured in many notable films.
Oniga was born on 23 May 1957 in Ebutte Metta, Lagos State.
3. Sadiq Daba
The death of Sadiq Daba, a veteran broadcaster and Nollywood actor occurred in March 2021.
Daba had previously revealed that he stopped drinking in 2013 after he was diagnosed with leukemia.
He died at the Lagos state university teaching hospital (LASUTH) where he was undergoing treatment.
4. Victor Olaotan
Popular Nigerian actor, Victor Olaotan died in August 2021. The talented Nollywood actor was known for his lead character in the popular movie series, Tinsel.
The development was confirmed by the spokesman of the late veteran actor, Demola Sanyaolu.
Olaotan who turned 69 on February 17 had been battling for his life after suffering a ghastly car accident in October 2016.
5. Ifeanyi Dike
A popular Nigerian actor and ex-chairman Board of Trustees of the Actors Guild of Nigeria, Prince Ifeanyi Dike, died in August 2021.
Confirming the sad incident, President Actors Guild of Nigeria (AGN), Emeka Rollas, said that Dike died in Lagos after a brief illness.
6. Ernest Asuzu
Veteran and popular Nollywood actor Ernest Asuzu died in January 2021.
According to the wife of the late actor, Jennifer Asuzu, her husband died on Tuesday evening at the age of 36.
She said Asuzu fainted on Tuesday evening around 9 pm and died afterward.
7. Ada Jesus
Popular Nigerian Comedienne and actress, Ada Jesus died a few days after she marked her birthday on the hospital bed.
It is understood that the comedienne whose real name is Mercy Cynthia Ginikanwa died of kidney failure at an Abuja hospital where she had been receiving treatment.
She died at the age of 24, having been born on 19th February, 1997.
8. Folake Aremu (Orisabunmi)
Veteran Nollywood Yoruba actress, Folake Aremu, popularly known as Orisabunmi died in the early hours of Tuesday, January 5, 2021 in Ibadan the Oyo State capital at the age of 60, Naija News understands.
Her death was confirmed by the Governor of Theater Arts and Motion Pictures Practitioners Association of Nigeria (TAMPAN) in Oyo State, Mrs Rose Odika.
She passed on after two days in the hospital, Odika disclosed.
9. Jim Maduike
Popular Nigerian actor and broadcaster, Jim Lawson Maduike, reportedly died on Saturday, January 9, 2020.
Naija News learned that the Nollywood actor and filmmaker allegedly died after complaining of body pains at around 12 pm.
The Imo State thespian joined the Nollywood movie industry in 2004 and acted in more than 150 movies before his death.
10. Dan Nkoloagu
Nigerian film actor, Dan Nkoloagu died on Friday, January 22, Naija News understands. The Nollywood actor passed away at the age of 83.
Confirming his demise on social media earlier, his son Dan Nkoloagu Jr. shared hospital photos of his late father with the caption: "IT WAS A BLACK FRIDAY FOR US YESTERDAY as my Dad left us without saying goodbye."
11. David Mela
David Mela was a fast-rising Nollywood actor who died from an undisclosed ailment on January 11, 2021.
The death of the young actor was made more emotional by a post before his death which suggests he was going through a rough time in life shortly before he passed on.
May their souls continue to rest in peace.
Download NAIJA NEWS app: