Nothing Has Changed About Your Party – APC Blasts New PDP Leadership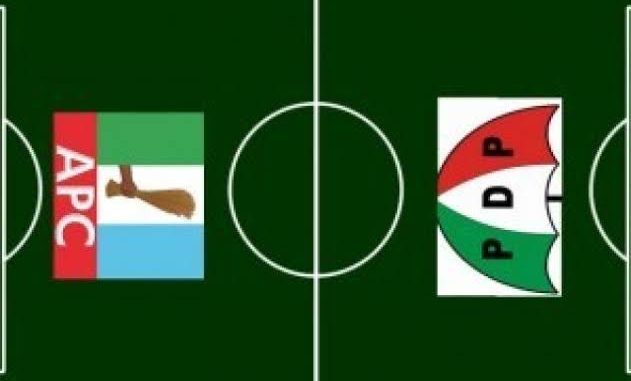 The All Progressives Congress (APC) has submitted that there is nothing new about the Peoples Democratic Party (PDP) despite its recent change of leaders at the national level.
The APC in a statement on Saturday by the national secretary of its caretaker and extra-ordinary convention planning committee (CECPC), Senator James Akpanudoedehe said PDP has no hope about winning elections at the national level.
The statement said replacing Uche Secondus with Iyorchia Ayu can't change the fortune of the PDP at the polls as the party has not learnt anything from its past mistakes.
It added that the APC still remains the party of choice for Nigerians come 2023 general elections due to the massive and obvious developmental strides taken by the government of President Muhammadu Buhari since assuming power in 2015.
Akpanudoedehe stated that the APC government has been cleaning up the mess created by the PDP during its sixteen years in power.
"The sit-tight syndrome headlined by the PDP's ill-fated third-term agenda has been discarded as an undemocratic template," Akpanudoedehe said.
"President Buhari has assured Nigerians and the international community of free and fair elections in 2023, even as he pledged peaceful transfer of power.
"That is the stuff of true progressives and statesmanship.
"Also, this government's diversification policies have led to massive growth of the non-oil sector, spurring Nigeria's highest growth in the last seven years.
"Record investments in the armed forces and other security services has equipped, raised their morale and enabled them to effectively secure our lives and properties.
"The old system where impunity and corruption was pervasive is no longer the norm."
Naija News reports that the APC position comes after the newly inaugurated national chairman of the Peoples Democratic Party (PDP), Dr. Iyorchia Ayu told the ruling All Progressives Congress (APC) to start preparing its handover notes.
Ayu made the call on Friday in his inaugural address shortly after he and other new members of the PDP National Working Committee (NWC) were sworn in.
As earlier reported by Naija News, Ayu and other NWC members of the PDP were sworn in at a ceremony held at the International Convention Center in Abuja.
The PDP boss alleged that the APC has inflicted nothing but suffering and hardship on Nigerians since it took over power in 2015.
The former Senate President said within the six years in office, APC has damaged the good economy it inherited, caused several job losses, clamped down on free speech, promoted ethnic and religious conflicts, and failed in curbing security challenges.
He, therefore, said such atrocities can't be allowed to continue as Nigerians are tired and the PDP is coming back in 2023.
Download NAIJA NEWS app: