2023 Elections: Nobody Can Destroy PDP – Iyorchia Ayu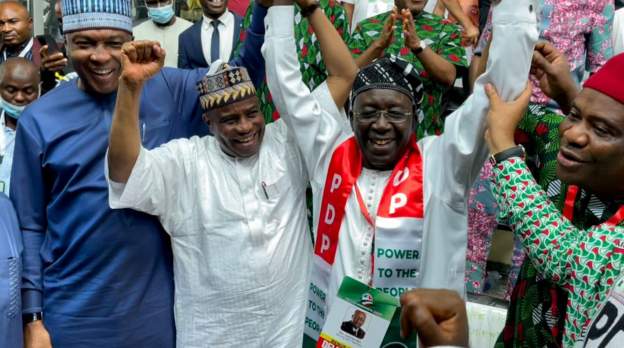 New National Chairman of the Peoples Democratic Party (PDP), Iyorchia Ayu, has said the opposition party cannot be destroyed by an individual, group of people or government agencies.
He made this known at a valedictory session organised for the outgoing National Working Committee (NWC) members at the party's headquarters on Wednesday in Abuja.
Ayu stated that the PDP was formed in very difficult circumstances and the founding fathers of the party had a vision that it will be so big and so powerful.
The new party chairman asserted that the PDP will be impossible to destroy based on the resources and the calibre of its members.
He, therefore, commended the outgoing NWC members for ensuring that the party was not destroyed by aggrieved members of the party.
Ayu said: "Those of us who formed this party on extremely challenging circumstances had a vision that this party will be so big and so powerful, that it will be impossible for anybody or any circumstance to destroy it midstream," he said.
"I think that vision has been justified by the role you have played because the party is bigger and stronger.
"We know it is very difficult to run a party as an opposition. But I think you have discharged your responsibilities to the best of your abilities."
Speaking further, Ayu said his administration would ensure that there is no division in the party and run an inclusive administration.
He said: "We must work as a team; there will be no divisions. We will not allow any divisions, and that will be extended to all other members of the party.
"We intend to run an inclusive administration and that will include all members of the current working committee that is about to hand over to us.
"It will extend and broaden the frontiers of administration to include every party leader in every state."
Download NAIJA NEWS app: