Middle Belt Forum Raises Alarm Over Alleged Plot By The Presidency To 'Forcefully Suspend Ortom As Governor'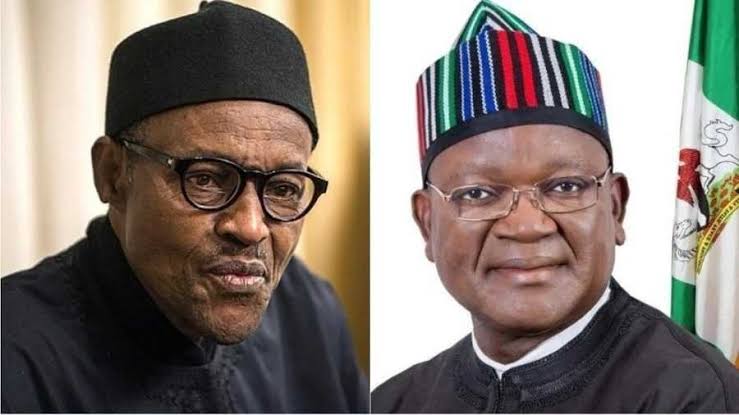 The Middle Belt Forum, MBF, has described the allegations leveled by the Presidency against Governor Samuel Ortom over his recent controversial interview on Channels TV as unfounded and part of efforts to suspend him from office.
Presidential spokesman, Garba Shehu had accused Ortom of instigating genocidal attacks against the Fulani ethnic group in a 10-paragraph response to the issues concerning the federal government's handling of the nation's insecurity which were raised by the governor in his interview.
But the Middle Belt Forum, in a statement issued in Abuja by its National President, Dr. Pogu Bitrus, rejected Shehu's position, saying the Presidency was simply attempting to give a dog a bad name in order to hang it.
He alleged that there are plots to cause a major crisis in Benue with a view to compelling the Federal Government to declare a State of Emergency on the State in order to suspend normal constitutional procedures including the office of an elected governor.
Bitrus, consequently, warned those behind the alleged plot to desist from it as the Middle Belt Forum will continue to stand in solidarity with the Governor Ortom
The statement reads in part, "When Mr. Shehu described Governor Ortom as an instigator of genocidal attacks; he was simply attempting to give a dog a bad name in order to hang it.
"The Forum is not unaware of plans to instigate an unmitigated crisis in Benue State with the sole intent of forcing the Federal Government to declare a State of Emergency on the State.
"We are totally opposed to such a planned move that is being orchestrated by some deceitful and wicked elements in order to throw Benue State into a state of unprecedented violence.
"The MBF hereby warns those behind the reprehensible plot to desist from carrying out such dastardly machinations as the Forum is fully identified with the patriotic zeal of Governor Ortom whose commendable strides have given hope to not only the state citizens but other Nigerians living in the darkest period of our country.
"As someone who is in his second and final term as Governor, the presidency needs to be reminded that Dr. Ortom remains a popular political leader in Benue State, and that it was that popularity that earned him a second term despite ploys by the All Progressive Congress (APC) to truncate his comeback bid in 2019.
"In a democracy like ours, the silence of Governor Ortom amounts to encouraging forces of evil that are committed to unleash devastating attacks on our people in the Middle Belt.
"President Buhari must be told that his actions and inactions are the major instigators of genocidal killings. The government should rise and deal with demons of terror decimating our communities and unleashing coldblooded murders on our innocent citizens.
"The embarrassing silence and discriminatory disposition by the Federal Government over the intentional obliteration of our communities and massive massacre of our people must be brought to an end.
"The Buhari-led government must stop its discrimination in the manner it reacts to terror attacks on other groups and take swift actions against perpetrators. Governor is not an instigator of violence, but a patriot who can't keep silent in the face of glaring multiple injustices and destruction of communities."