NDA Attack: Bandit Terrorists Demand ₦200m Ransom For Kidnapped Officer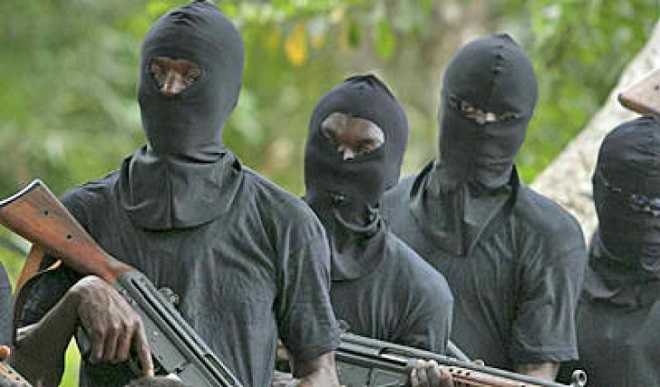 A ransom demand of ₦200m has reportedly been made by the bandit terrorists who abducted a military officer during the attack on the Nigerian Defence Academy (NDA) earlier on Tuesday.
It was gathered that the terrorists contacted the authorities of the academy and demanded the payment of the ransom as a condition that must be met before the officer is released.
It will be recalled as earlier reported by Naija News that the Nigerian Defence Academy (NDA) has confirmed that bandit terrorists attacked its facility in Kaduna State on Tuesday morning.
The spokesperson of the NDA, Major Bashir Muhammad Jajira who confirmed the development in a statement said the unidentified gunmen breached the NDA security and gained access to its residential area.
He also confirmed that two officers were killed while one other was abducted by the terrorists.
"The security architecture of the Nigerian Defence Academy was compromised early this morning by unknown gunmen who gained access into the residential area within the Academy in Afaka."
"During the unfortunate incident, we lost two personnel and one was abducted," the statement read in part.
The officer that was abducted during the attack was also later identified as Major Datong.
A source quoted by FIJ on the matter has now provided more updates, submitting that the attackers have initiated contact and demanded N200m for the Major to be released.
"They have called to ask for N200million to free the Major," the source said.
Commenting on the attack itself, the source quoted that the Army was helpless when the bandits attacked.
"The attack was ridiculous. They came, teased us, and left. Even the helicopter hovering in the bush could not track them," the source added.
Meanwhile, the Defence Headquarters (DHQ) has reacted to Tuesday's attack by bandit terrorists on the Nigerian Defence Academy (NDA), Kaduna.
Reacting to the development, the DHQ, in a statement by the Director Defence Information, Major General Benjamin Sawyer said security has been beefed up within and in the surrounding of the academy.
He also conveyed the condolence message of the Chief of Defence Staff (CDS) to the families and associates of the officers who lost their lives during the attack.
The DHQ added that a search and rescue mission for the officer abducted during the attack has been activated while further details will be released later.