Don't Sack Me Because…, Secondus Pleads With PDP Leaders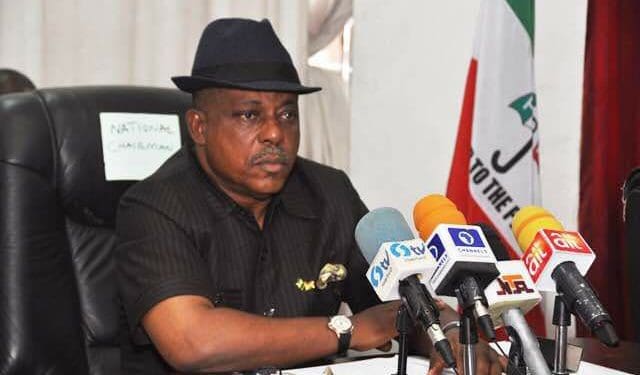 The National Chairman of the Peoples Democratic Party (PDP), Prince Uche Secondus has submitted that it will be a wrong move for the party to remove him from office.
With only three months left before his tenure expires, Secondus told the party's leadership that sacking the National Working Committee (NWC) at such a critical time might plunge the PDP into a fresh crisis.
Speaking at the NWC meeting held on Thursday, he pleaded with aggrieved members to sheath their swords and work for the progress of the party.
"Anything contrary to the smooth running of our party towards the remaining three months will not be good enough for our party."
"Any dislocation will cost an infraction that will result to several unknown issues that we may not be able to come out of," he said.
According to him, during the past three years and eight months that he has been in the saddle, things have been very smooth.
He added that the challenges facing the party are not new but charged every stakeholder to put party interest first so as to be in a good position to defeat the All Progressives Congress (APC) in 2023.
"After the main state congresses, both the public and our party, were looking forward to a smooth and peaceful convention which is coming up in December."
"We believe the preparation is being done in the office of the National Organizing Secretary. Soon, the schedule of events, the timetable, and other things shall be presented before the Caucus, BoT, NEC and all organs of our party for action leading to the convention," he said.
Meanwhile, it will be recalled that the Board of Trustees (BoT) of the Peoples Democratic Party (PDP) has disclosed measures put in place to address the internal crisis rocking the party.
They resolved to set up a reconciliation committee to examine issues and work out solutions to issues facing the party.
The representatives of the BoT spoke to newsmen in Abuja on Thursday after the crucial meeting held behind closed doors by the party leaders.