Latest Biafra/IPOB News For Saturday, July 17th, 2021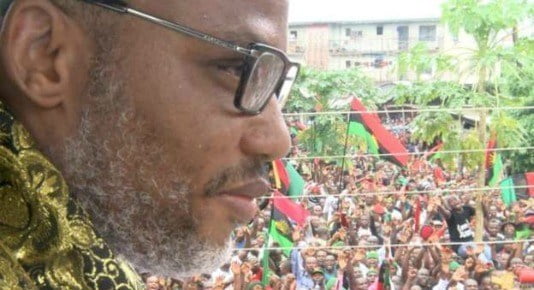 Good day, Nigeria, welcome to Naija News roundup of Biafra/IPOB news headlines for today Saturday, July 17th, 2021.
Below is a roundup of top stories on Biafra, IPOB, ESN, Nnamdi Kanu and other pro-Biafra groups:
Nigerian Security agencies have uncovered plots by members of the proscribed Indigenous People of Biafra (IPOB) to attack Kuje Correctional Centre in Abuja and free their leader, Mazi Nnamdi Kanu.
Recall that IPOB leader, Nnamdi Kanu was reportedly rearrested in Kenya and extradited back to Nigeria on the 27th of June, 2021.
He was then arraigned before Justice Binta Nyako who ordered his remand in the custody of the DSS until his next trial date which is July 26 and 27.
The leader of the Indigenous People of Biafra, Nnamdi Kanu and ex-militant leader, Asari Dokubo has been accused by the founder of the Customary Government for the Indigenous People of Biafra, Emeka Emekesiri, of trying to hijack the group.
Emekesiri in his statement noted that the IPOB leader and Dokubo tried to hijack the group because the secessionist group was a good product.
He further stated that Kanu and Dokubo are aware of the good ideas he had for IPOB.
Emekesiri revealed how the ex-militant leader went behind him to form a Customary government after ignoring his calls for a meeting.
The brother of the leader of the Indigenous People of Biafra, Nnamdi Kanu, Emmanuel, has insisted that the IPOB leader was kidnapped before being repatriated from Kenya to Nigeria.
Emmanuel linked the arrest of Kanu to how President Muhammadu Buhari who was then a Military President, allegedly tried to abduct Umar Dikko from the UK.
"It was not funny. Because when the news was broken to us, we had to ask a couple of questions which, up till now, nobody has provided answers to. Even the federal government has not.
"The question is what has he done to be abducted from Kenya? Did he commit any crime in Kenya? Was there any crime against him in the UK? If there were, there are processes to be met before taking somebody away from a particular country, which was not followed."